Retail billing software for Grocery Stores - 5 Must-have capabilities
Retail billing software for Grocery Stores - 5 Must-have capabilities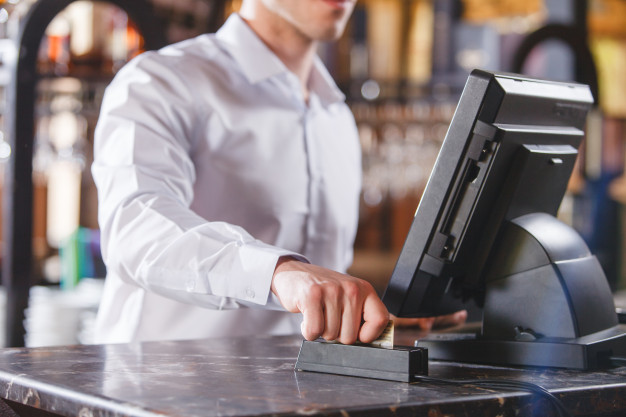 The retail industry is rapidly adopting new age technologies to cope up with the challenges posed by the Covid19 pandemic. They are looking at alternatives to enhance inventory management, billing processes, customer satisfaction and overall business outcomes.
The fast adoption of Grocery Point of Sale Software
Supermarkets and grocery stores are affected with the social distancing norms in place. The billing and checkout processes have slowed down and the overall customer experience has been hampered.
Read: The COVID-19 pandemic continues to force retail stores to close, signaling an unprecedented disruption of commerce.
Retailers have started realizing that augmenting sales processes can help make a difference and thus they are looking for cutting edge technology driven grocery point of sale software to fuel outcomes.
The potential of a reliable grocery point of sales software is unmatched. However, before adopting one, few of the capabilities of the software must be considered.  
Here are a few capabilities that a Retail billing software for Grocery Store must have. 
Also Read: How Omnichannel retail solutions can benefit retailers?
Multiple Payment Modes - Grocery point of sale software
The retail sector has traversed a long way, from operating with just cash and credit as modes of payments to different methods of receiving payments. An ideal pos system for retail grocery stores must have options to carry out payments in multiple ways including, cash cards, credits, and payment applications, etc.
The grocery point of sale software must allow seamless mobile payments facilities. Also, to facilitate transactions with ease, features that allow customers to have options to split their payments across different modes are crucial.
Mobile access is a must for a supermarket point of sale system
The world is on smartphones now and the retail sector must cope up with this inevitable trend with a pos system for retail grocery stores that offer ease of mobile access. A grocery point of sales software that can be used seamlessly on mobile phones enhances the overall buying experience of the customers. Without having to be present at the sales counter, customers can buy products from anywhere in the shop with the help of store executives using the software on their mobile phones or tablets. This thereby reduces the queue and the waiting time of all the other customers. With Zwing these capabilities are available out of the box.
A grocery store management software must be capable of sending digital receipts
With 'Digital' taking over brick and mortar set ups, customers are eyeing on retail shops that can provide a comprehensive digital experience while shopping. Also, while customers are queuing up during peak times at the billing counters, a grocery store point of sale must have the capability to process digital receipts.
Digital receipts can benefit in many ways:
They help customers keep a track on what they have bought from you as digital receipts are less likely to be lost 

Exchanging products at the stores become easier for both the customer and the retailer

The retailer while sending the receipt can have access to personal information of the client such as their phone numbers or email ids that they can use to notify customers of offers and special discounts

Retailers can send gift cards and personalized messages and enhance the overall customer experience 

They can provide customers with a more personalized experience with digital receipts

It saves cost to the retailer as there is no need to invest money in paper rolls for printing

Saves time at the billing counter and much more
A new age grocery point of sale software must have the capability to consolidate workflows and functions 
A grocery point of sale software must have the capability to seamlessly consolidate several business functions and workflows to provide ease of conducting a retail business. This capability helps in sheer inventory management, tracking of products and connecting the dots between the sales and the marketing team. 
With a grocery store point of sale system the stakeholders in the business can stay aware of every transaction taking place across several channels of the business and thus strategize better for different locations. Marketing professionals can get insights from the sales team about customer demands in a particular store for a particular product and reach out to the customer with an attractive deal on the same.
A grocery inventory software must effectively manage inventory 
Managing inventory effectively is pivotal to any retail business' success. A grocery inventory software with a reliable inventory management system can transform retail businesses and enhance business outcomes. Here is how:
Inventory management systems offers clear visibility of the products and stocks that your retail shop owns

It helps in keeping a track of stocks and keeps customer dissatisfaction at bay

Stay aware of product sales at any outlet and understand customer demands better

Keeps a track of the overall sales and profits 

Helps communicate with the wholesalers better and maintain good relationships with them 
Ginesys grocery point of sale software
Ginesys offers its grocery point of sale software to transform retail businesses with a business outcomes focussed approach.Here are some of the capabilities:
Offers versatile and easy to use POS

Helps in conducting effective promotions and customer Loyalty

Ensures efficient and flexible store operations

Eases Thorough Reporting and Detailed Item Master

Effectively implement Replenishment and Purchase Policies
Learn more about Ginesys' grocery store management software. Click here.
Book a consultation with the experts. Contact.