Key benefits of ERP, WMS, OMS, or POS for your Foot Wear Brand
Key benefits of ERP, WMS, OMS, or POS for your Foot Wear Brand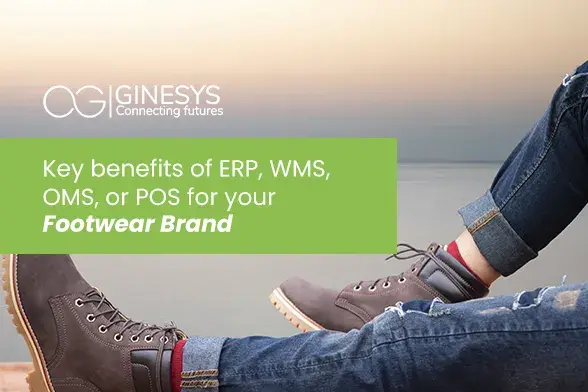 Regardless of the size of the company, Enterprise Resource Planning (ERP) has become an unavoidable requirement in the retail industry. With rising competition, ERP has become critical for businesses to stay afloat and meet changing client demands.
Creative, dynamic and trend-sensitive products like footwear businesses go through unique processes and require ERP, WMS, OMS, or POS to overcome challenges that you go through while running this business. 
How POS or ERP software empowers your brand: 
Ecommerce OMS for faster sales
Drive online sales with a robust multichannel OMS that is linked to your ERP. This way you do not have to record stock inward and outward entries twice, once in the footwear ERP and once in the footwear POS. This enables you to provide your stock real time to your online channels and have a faster sell through rate.
Business intelligence for better decisions
Management can make swift and educated business decisions if they have access to real-time, accurate, and relevant data. Data spread across your inventory, sales, purchases, and other procedures can be collected through a single, integrated ERP system. At your fingertips, this data can accelerate your growth by helping you with better planning, market readiness and other unanticipated disruptions.
ERP = inventory management
Inventory management in footwear retail is a make or break. Better control of inventories is something footwear ERP software can help with, at the click of a button. With precise information about every product at the shoe store inventory management, it ensures stock levels are optimal. You don't need out-of-stock signs anymore.
Inter-department data from production to POS 
Embrace an integrated approach to your footwear retail workflow. ERP solutions bring all the disparate data spread across departments onto a single platform for sharing and analysis,  real-time. Just imagine, you know the profit margin of every product as soon as it sells considering the landed cost.
Enhanced operational efficiency
Footwear retail software enables you to record, store, and manage data using an automated system to streamline day-to-day operations. They eliminate the time-consuming manual labor involved in performing repetitive tasks. You'll benefit from increased productivity, ensuring milestones are met, resulting in lower operational expenses. No need to enter the job details manually in production. Everything flows from the process master and bill of materials. Masters control every entry in the system.
Automated Sales & Payment Recording
Footwear POS systems automatically record sales transaction details, saving time and reducing the risk of errors that occur when tasks are done manually. The most important reason for making sales transactions faster and easier is that current retail ERP software is integrated with POS equipment. Footwear retailers can use the solution to cut down on consumer wait times for purchase and billing. In addition, the technology gives data in real-time. All transactions are reflected in the ERP, allowing management to keep track of what's going on at multiple retail locations.
Augmented Customer Management
An ERP system with customer relationship management tools enables merchants to better manage and overcome difficulties connected with client acquisition and retention. A customers' purchase history is captured by a footwear POS system allowing you to evaluate shoppers' buying tendencies. This empowers you to tailor deals to their specific needs and offer them a personalized shopping experience. This can be especially useful if it is linked to pre-integrated loyalty or couponing systems. It can drive incremental sales.
Effortless Pricing and Discount Management
The nature of the shoe store retail necessitates pricing flexibility. Keeping track of this manually is time-consuming. With a solid ERP system, you can automate the process of recording product prices, discounts and special offers, making the process straightforward and painless.
Build your footwear business based on systems that empower you to grow your business at speeds. 
Ginesys One is a powerful growth engine for footwear brands. We also offer POS software to products ranging from apparel, travel gear, home furnishings, and decor. 
Our integrated ERP, POS and OMS is an integrated environment for taking your retail business to the next level. Get in touch with us to learn more about Ginesys One.