Acquiring New Online Shoppers through Social Media – A Guide on Social Commerce
Acquiring New Online Shoppers through Social Media – A Guide on Social Commerce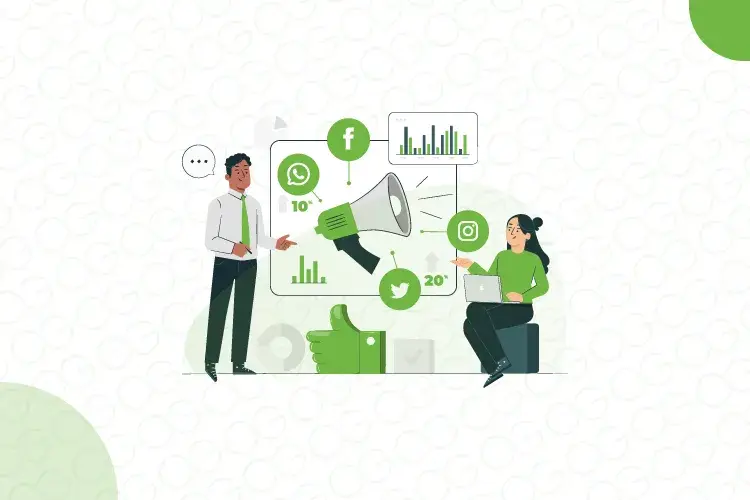 Picture this. You're scrolling through Instagram, catching up on your friend's wedding photos or posting a vacation photo of your own, when a bright red outfit catches your eye. You click on the post that has a "View Products" tag. You then get the product details such as size, material, and the fit. You are then directed to the "Buy Now" page, where you complete the purchase using the app in just a few clicks.  
You have just fallen into the "Social Commerce" trap, without even realizing it. 
Over the past few years, social commerce has become a buzzword that has swept through social media platforms. Let's look at what Social Commerce is, how it originated, and how retailers can reap the benefits of this exciting new frontier in online commerce. 
How it all Started 
Coca-Cola's "Share a Coke" campaign is a classic example of how social commerce started. The idea behind the campaign was to encourage consumers to personalize their Coca-Cola bottles and cans with their names. For the first time, names of selected individuals were printed in place of the Coca-Cola logo. Coke then took this campaign a step ahead by announcing on TV, radio, billboards and ads on public buses that their favourite drink might have their name on it.   
The campaign also encouraged people to share these labels on social media using the hashtag #ShareaCoke. This innovative approach of seeing their own names printed on Coke bottles became so popular that people started paying premium prices for it. The results were incredible. Millions of photos were shared on the internet and Coke sold three times more than its competitor Pepsi in the UK.  
Social Commerce is Driving the Future of Retail  
Social Commerce is a new and exciting way to shop online. It's all about selling your products and services through social networking sites like Facebook, Twitter, Instagram and Pinterest. It lets you leverage the power of social media to drive traffic to your online store and convert them into customers. 
The goal of social commerce is to acquire new customers, engage customers in the decision stage and increase sales. However, it goes through a series of steps. For retailers who are looking to invest in the online sphere, there is a large piece of the pie to claim. Social commerce can be broken down into three main components: 
Social Media Marketing 

The first step in customer acquisition is spreading the word about your brand. You need to develop a strong brand image by posting relevant content around your niche so that people trust your brand. You can then use various marketing approaches, such as paid advertising, organic posts and video ads to drive traffic. This is an effective way to grow your audience and build brand recognition. 

Social Media Engagement 

Engage customers on social media by adding a personal touch, such as Facebook live video streaming. This can be used to broadcast events such as product launches or influencer meet ups. Create a sense of urgency by organising contests for maximum likes, shares and comments. You can also entice customers by offering discounts on some of your products. This significantly increases your engagement rates and, as a result, sales. 

Social Media Payment Processing 

Customers can make purchases on social networking sites with the Buy Now button or in app purchases. This not only allows customers to buy directly from a company's social media page but also gives them an easy way to check out without having to leave the social networking site.  
Benefits of Social Commerce 
With the rise of social media and mobile devices, it's no surprise that social commerce is growing by leaps and bounds. According to Instagram reports, one in every two people discover new brands, products or services using the app.  Pinterest, on the other hand is used by more than 400 million people to research new ideas and products.  
Here are some of the many benefits of social commerce: 
Wide Social Reach 

Social media gives retailers a chance to reach out to customers beyond their physical store locations. Most brands have a presence on multiple social media platforms, and this proportion is rapidly growing. Social media is currently used by 57% of the world's population. By 2027, this figure is expected to rise to 6 billion. Social media provides more opportunities than ever before to reach a global audience. 

Increases Brand Awareness 

A brand's social presence can act as an extension of its website, providing more information about the company and its products or services. Social media posts can also be used to boost SEO rankings and link back to your website. This helps improve your brand awareness across multiple platforms and increase traffic to your site. 

Fosters Frictionless Buying  

Customers are actively using social media to shop as they look for inspiration on websites like Facebook, Instagram and Pinterest. With so many options available, customers can quickly find what they're looking for, finishing their purchases without leaving the website. 

Gain Social Proof 

Social media sites make it easy to share recommendations with your friends, followers, and other users. This is an effective way to increase sales because people are more likely to buy when they see a recommendation from someone they know, like and trust. According to Forbes, 80% of consumers' purchase decisions are made based on their friend's social media post recommendations.  
Level Up Social Commerce with Ginesys 
Selling your products on social media channels has never been easier. Once the orders are received, Ginesys' omnichannel suite Ginesys One is the ultimate unified commerce platform that provides a complete cloud-based solution for order management, inventory management, taxation, and accounting. It offers an intuitive user experience and supports unlimited products, inventory and features.  
Ace your social commerce game with Ginesys! 
Get in touch with us.