The Pros and Cons of Omnichannel 
The Pros and Cons of Omnichannel 
Have you heard about the magic of Disney's omnichannel experience? 
We all know that Disney has created plenty of magic in the fictional realm. Not just fiction, it has not left any stone unturned in the retail sector either. Let's delve deeper into this. 
Disney has crafted a well-structured omnichannel strategy. The entire Disney World experience is setup even before you step into the park. Disney's website and app help you plan your itinerary, create wish lists, and even add Disney merchandise to your shopping carts. 
The app serves as your tour guide as soon as you enter the park. It helps you in getting around, booking tables at restaurants, meeting your favourite characters, and even displaying the current wait time for shows. Isn't this fascinating? 
The excitement doesn't just end here. Disney's magic waist band is its unique selling point. These bands are placed on your wrists at the entrance. Every band is equipped with an RFID chip. It serves as a hotel room key, food ordering tool, ride ticket, and even a primary payment tool linked with your app. 
The magical experience you just read about is a prime example of omnichannel retail. Disney has brilliantly integrated its app, website, and the magic band to provide customers with an experience that's out-of-this-world.  
Through this blog, let's explore the world of omnichannel retail before delving into its benefits and drawbacks. 
Omnichannel Retail Explained 
The retail landscape is progressing at a rapid pace with the growth of the internet and the application of technology. We have witnessed digital channels battling offline models, offline channels getting integrated with online spaces and vice versa. There has been a constant quest for a seamless and unified retail model.  
Omnichannel has become the lifeblood in the retail world. Omnichannel is all about unifying the retail experience across multiple touchpoints seamlessly. The idea is to enable customers to transition between online and offline channels by providing an integrated approach.    
It means that no matter how a customer interacts with your brand, whether it's at a physical shop, website or through an app – they get a consistent shopping experience. 
To sum things up, the omnichannel experience is much like the Disney example you just read about, making it easier for customers to purchase what they want, where and when they want it, irrespective of the channels they engage in.  
Why Omnichannel Retail is Turning Heads in Retail 
The best way to stay ahead of your competition is by adopting an omnichannel approach. According to studies, customer retention rates are 90% higher in omnichannel models. Here is why omnichannel retail is making all the right noises. Here are its major advantages: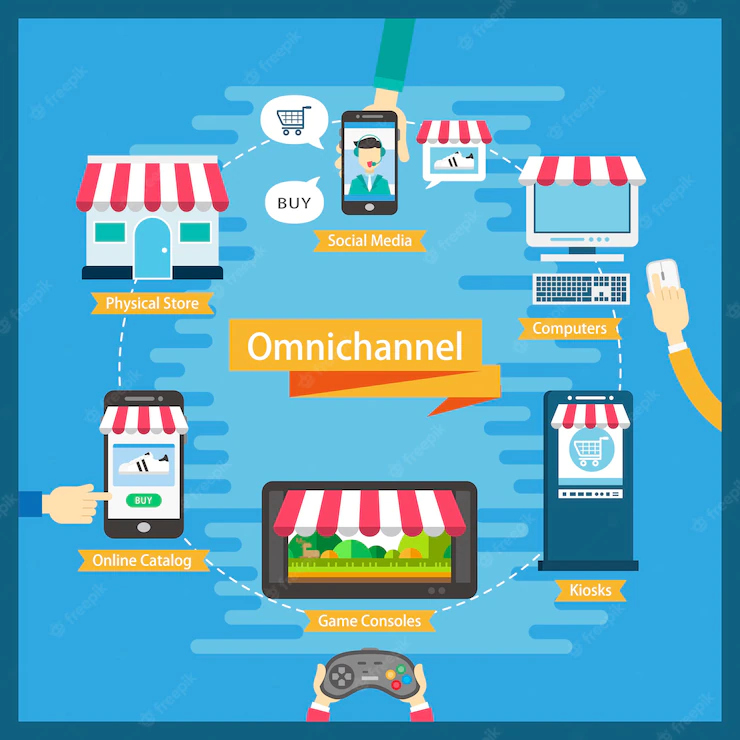 Enhanced Customer Experience 

Customers get to choose the channel they want to shop from in this model. They have the flexibility to order online and choose an in-store pickup or to select an item at the store and get it delivered to their homes. In both these cases, the customer journey is recorded with similar payments and return cycle policies.  

Customers are satisfied because they have multiple channels to reach your brand, irrespective of the devices they use.  

Higher Sales 

According to a survey by the Aberdeen Group, companies that leveraged the omnichannel model saw a 9.5% increase in their revenue. The easier it is for customers to shop across multiple channels, the greater the likelihood of a potential sale. 

Increased Customer Loyalty  

Are you a Starbucks Coffee Fanatic?  

Starbucks' popularity stems from the fact that it provides a holistic reward strategy. It allows you to check, reload, and use your reward points on the website, in-store, or through the app. If the points change, the profile is automatically updated in real-time across all channels. 

Customers develop a stronger feeling of trust when they know that they get the same rewards or points, irrespective of what channel they purchase from. Customer loyalty and your brand image spikes up when your customers are in the driving seat.  

Competitive Advantage  

Have you ever wondered why Walmart is a pioneer in the retail landscape? 

Walmart has been an excellent adopter of the omnichannel strategy. The in-store customers can use its app to order and pay for products that have already been sold out in stores. This strategy has enabled Walmart to serve its customers seamlessly across all channels right off the bat.  

If it had been a single channel shopping model, the retail giant would have lost a significant share of its revenue. Offering an integrated experience to your customers, irrespective of the mode of shopping they use, gives you a competitive advantage. 
Pitfalls of the Omnichannel Model 
This retail model has several benefits, but also comes with its own share of challenges.  
Complexity  

Omnichannel retail involves the co-ordination between different channels. The tools and technologies used must be highly sophisticated. This paradigm demands a significant degree of complexity to implement and manage. 

Increased Costs  

Managing several channels requires an investment in infrastructure and tools. Inventory storing, packaging and delivery incurs an investment across different channels.  

Influx of Customer Data  

Since omnichannel retail requires data to flow between channels, a massive amount of customer data must be processed and managed. If there is no concrete process in place to store and manage data flow, your business may end up in a soup. 

Higher Dependence 

Since different channels are integrated in the omnichannel model, changes made to one channel will have a significant impact on the others. 
The Perfect Fit for your Omnichannel Needs 
Ginesys' multichannel order management system (OMS), ERP and POS work together as Ginesys One to shape what is India's best omniretail suite. Ginesys One is designed to help businesses scale and grow in the retail industry. Ginesys OMS is a powerful tool that combines your business operations with easy-to-use features such as customizable order management, shipping, warehouse management and detailed payment reconciliation. With our integrated POS system, you can manage sales, inventory, and customers in the same place. 
Our technology helps you increase revenue across channels by driving more sales, managing inventory, processing orders and providing customers with a seamless shopping experience. 
Leverage the benefits of the omnichannel retail experience with Ginesys. 
Get in touch with us.