Is Your Distribution System Adaptable to Changing Times?
Is Your Distribution System Adaptable to Changing Times?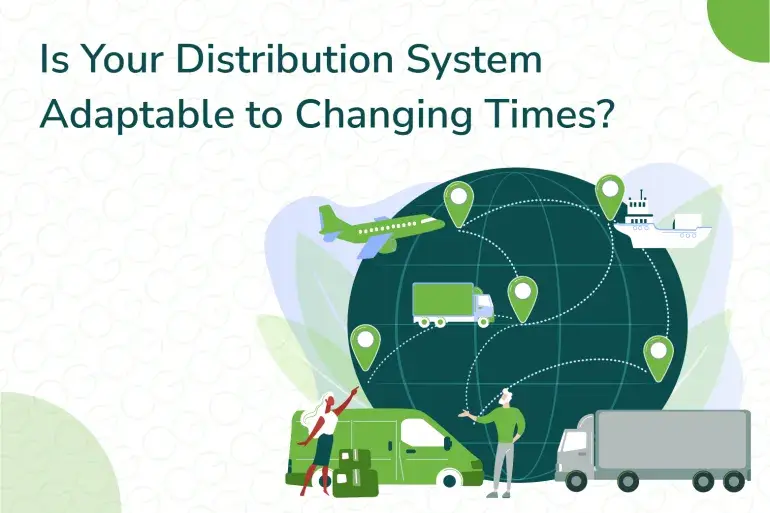 As a wholesale distributor, it's essential that you have complete visibility across every channel of your operations. With greater visibility, you know exactly where your products are stocked. For instance, you will know whether your products are in the warehouse, stuck in transit or at a particular distribution center.
For your distributors, this visibility helps them keep regular tabs on ordering, selling, transportation and inventory costs. These costs need to be minimized for your retail business to be successful. As businesses become more competitive, the need for an efficient distribution system becomes even more important.
Quality distribution systems come equipped with some of the latest features which will let you adapt quickly to meet evolving business needs. Here are some key features which will ensure that your distribution management system adapts to changing times:
Customer Portals
Distributors need to have internet portals that customers can also access. These portals should be designed in such a way that they allow for quick order placement. Your customer portal is a crucial digital touchpoint in the larger sales cycle. It creates a seamless experience for customers who have already provided important data through previous purchases or a relevant browsing history.
Portals can also recommend products to customers based on this purchase history, apart from giving them additional details related to transaction and shipping schedules. This will reduce the selling costs.
Automation Opportunities
Distribution systems can automate your store operations, while cutting down on the time and money spent on manual operations. An automated distribution system centralizes orders from various sales channels, streamlines order processing and routing, and tracks order fulfillment in real-time. Retail businesses use this system to decrease order fulfillment time and costs and avoid human mistakes related to manual order handling. Your distribution software will have a centralized database which stores all your company data.
This eliminates the manual data entry processes, improves productivity and boosts efficiency.
Effective Order Fulfillment
Order fulfillment takes place in one or more distribution centers and typically involves inventory management, supply chain management, order processing, quality control and support for customers looking to report problems or make product exchanges or returns.
Picking and packing are two main functions of order fulfillment. If your distributor software is well equipped to handle order fulfillment functions, it can function seamlessly and improve business productivity. 
Robust Inventory Tracking
Accurate inventory tracking is vital to running a successful business. Wholesale distributors need to be well versed with their inventory. Tracking your stock on a regular basis helps avoid stock errors and other problems. Distribution software solutions need to have a robust inventory tracking feature which let you stay relevant in the constantly evolving business environment. The inventory tracking feature should be able to induce accurate counts and eliminate inaccurate paperwork. Selecting the distributor software with the right features will help streamline your resources and supplier relationships.
Software for distributors must come with plenty of advanced features which will help your distribution business thrive even during challenging times.
Service-Oriented Business Models
Customer needs keep evolving. With technology advancing constantly, consumers are now used to having everything they need from a company at their fingertips, any time they need it. Customer service, as a result is more important than ever, and it's imperative that your businesses keep up with their demands.
One way to ensure your customers are always getting the assistance they need is to offer self-service features including online order portals that clients or customers can access 24/7 to find information about products, pricing, or order status, without speaking to an employee. When a self-service portal doesn't serve the purpose, accurate, efficient, service-oriented help becomes important. When all customer information is integrated using wholesale software, it becomes easier to serve them better.
While you take care of customers, your software needs to take care of you. Every business has different needs. What works well for one organization may not work for another. Ensuring your system is a good fit is vital in ensuring that you get the most out of it. Regular consultations with your software vendor during sales and after the software has been implemented will help you review the state of your business, your unique needs, and opportunities for growth.
 
Conclusion
Distribution-based growth has been the traditional method to grow and scale your brand and extend its reach. It is easy to create but difficult to sustain. Challenges around ensuring adequate inventory with distributors and settling claims can create friction between the brand and the distributor. Make this a thing of the past by choosing Ginesys as a Distribution Management System (DMS). A flexible inventory will let you create products you wish to sell through your channels and manage them centrally. Your procurement and sales will be in one place. It also integrates with primary eCommerce so your catalog can be published online and distributors can browse through it and check out whenever they want. Get in touch with us for the best-in-class Distribution Management Systems.