Ginesys - Now Supporting Collecting Payments Through Ezetap Payment Device at POS
Ginesys - Now Supporting Collecting Payments Through Ezetap Payment Device at POS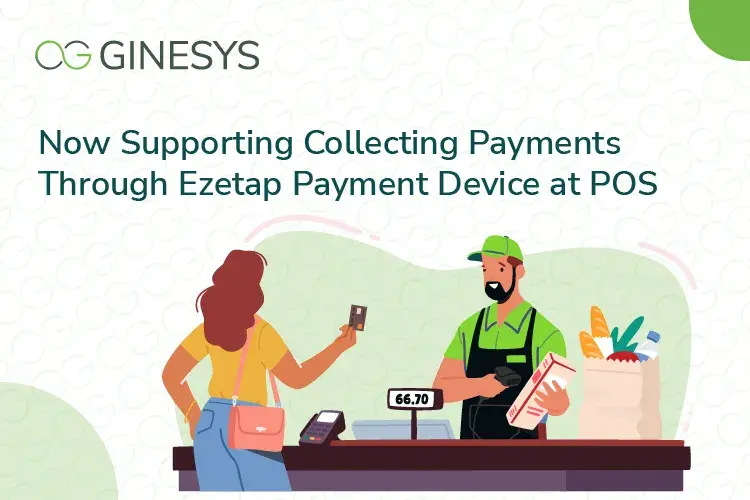 With technology evolving constantly, more customers expect stores to give them a personalized shopping experience. Improving transaction efficiency and offering a seamless purchase experience for customers has become crucial for retail stores.
Customers will not buy from your store if they aren't treated well. Turning a first-time buyer into a loyal customer is the key for retail. Having a good POS system is a crucial piece of your POS puzzle which will help you get there. This blog talks about how POS systems have evolved over the years and how the latest Ezetap payments from Ginesys can help speed up your POS checkout process, along with many other benefits.
Evolution of POS
Card payments have been around since the 1960s. POS terminals, in the early days, were bulky machines at the checkout counters. These machines have evolved to become sleeker, smarter and more powerful. They do more than just accept swipe-based card payments. POS terminals have now expanded to accept various other modes of payment including NFC, QR-based and remote payments through an app. They have become end-to-end tools which help merchants grow their business.
Tailor-made POS Terminals
POS machines come tailored to suit the needs of enterprises and organizations of different scales and experiences. Their devices range from mPOS to Android terminals. The new range of POS machines have a compact and portable body, which makes it easy to use for deliveries. In addition to this, POS machines have also started offering paperless digital e-receipts.
Every payment device works on an app which may either be in the device itself or on a smartphone. This allows payment solution providers to customize the features in the applications or tailor the solution to cater to the requirements of different organizations.
Meeting the Increased Demand for Digital Payment Solutions
The COIVD-19 pandemic increased the use of digital wallets, UPI, QR codes and other digital modes of payment.  
Businesses and merchants weren't initially equipped with the technology to accept so many payments. However, as the customer demand started to increase, they had no choice but to scale up their payment acceptance solutions to retain customers. When retailers worked with different companies for different payment methods, they found their solutions to be disintegrated and rather inefficient. This brought about the demand for a single platform that not only accepted all payment methods, including QR and remote-based payments but also integrated affordability solutions and digital khaata, among others.
How does the Ginesys POS and Ezetap POS integration help ?
Ginesys integrates with Ezetap to deliver some of the best services to help enhance business growth.
Ginesys POS directly informs the POS device of the amount to be charged to the credit / debit card or UPI payment. Hence it eliminates manual errors and frauds in the system. It also improves the speed of checkout at POS. With a small software installed at the POS machine, this integration can be enabled in a secure way.
How does Ezetap differ from other payment providers?
Here are some of Ezetap's best features:
Auto Reconciliation
Automatic payment reconciliation will eliminate the errors rising out of manual reconciliation. This streamlined the process improves business efficiency.
Reports and Insights
Ezetap's smart POS machines provide regular, tailored reports which have all your transaction details. You will get important customer payment insights, including their preferred payment methods that will help you make strategic business decisions.
Charge Slips
Traditional paper receipts get replaced with e-receipts. This doesn't just let you save paper receipts, but also lets you engage directly with customers.
Tailored User Experience
Ezetap allows you to accept all forms of payments across all touchpoints including in-store at the counter, at customer's doorstep, or through kiosks. It ensures consistency in your payment experience while personalizing it based on customer preferences.
Instant EMIs
Ezetap's POS provide flexible EMI schemes which can be facilitated through banks, brands or leading Non-Banking Financial Companies (NBFCs). Ezetap offers debit, credit and non-bank EMIs. It accepts payments through cheques or bank transfer, and allows deduction from debit cards, or credit cards for such payment methods.
Digital Khaata
Ezetap's POS machines help you retain your loyal customers through digital khaata for retailers. Digital khaata helps businesses maintain their digital records and the entries of every credit sale. This feature allows you to view the customer's balance, check their history of account transactions and accept SMS-based payments for the khaata account.
Don't just retain your existing customers but boost the purchase experience of new customers with Ezetap's seamless payment collection system. Get in touch with us and streamline your payment process today!