How Does your Retail Marketing Benefit from a Customer Data Platform?
How Does your Retail Marketing Benefit from a Customer Data Platform?
Today, there's a lot to gain by extrapolating insights from the abundant customer data landscape. Primitive touchpoints, a lack of usable data, and obsolete technical infrastructure are just a few reasons why businesses struggle to leverage customer data to its fullest potential for their benefit. Customer Data Platforms (CDPs) enable retailers to unify customer data across sources and platforms, find quality insights, and boost customer engagement to improve your overall ROI.
Retailers require actionable customer data to enable them to deliver as per consumer expectations without having to break the marketing budget. Retailers cannot rely on legacy systems any longer to understand customer behavior, how they can be reached, and how to measure the efficacy of their marketing strategies and programs.  Reaching out to customers at the right place and at the right time has pushed both brick & mortar as well as eCommerce retailers to unify their customer data via CDP.
Making Sense of Customer Data
Determining the right CDP to integrate into your retail operations is a challenge. It requires you to consider the maturity of their current data set, what their future goals and expectations are, and what specific data will need to be used to achieve these objectives.  Here are some data sources that retailers can use to bolster their retail marketing efforts:
Customer Behavior and Device Data
Understanding this type of data is the secret to discerning the behavior and preferences of present and future customers. It displays the products they are interested in, along with data on the exact number of pages visited per browsing session, with details of session duration, carts, wish lists, social sharing and more.
Order and Transactional Data
POS systems, eCommerce platforms, and other customer data touchpoints all generate data about client purchases, order and renewal dates, customer value, abandoned carts, returns, and more. This data is invaluable for sales and marketing initiatives.
Customer Profile Data
Customers are the most essential part of any business. Understanding who they are and what they want is the path toward effective marketing.  You can enrich your lead generation efforts by understanding consumer psychology and behavioral patterns.
Product Data
While this form of data is not strictly derived from customers, it ensures you have personalized, meaningful interactions with customers. Inventory levels and pricing are two basic examples of product data.
The Advantages of Customer Data Platforms in Retail Marketing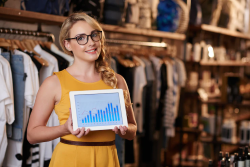 Within a centralized data environment, 72% of respondents say they are satisfied with their ability to use data to engage their customers against 64% of those using a decentralized data environment. Let's explore how these CDP advantages not only solve retailer's data management pain points but also how customer data can be leveraged:
Single Platform Across All Customer Touchpoints
Here are some reasons why having a unified customer touchpoint platform is so important -
Central customer data source from the time of pre-purchase to point-of-sale to post-purchase & customer care
True omnichannel strategies to capture raw data
Second and third-party engagement for data enrichment
 As shoppers continue to gravitate towards online and mobile commerce, the number of customer data touchpoints is set to rise exponentially. Each channel has the potential to generate hundreds or thousands of data points at any given time. Without an effective strategy in place to make sense of the data overload, several channels and touchpoints will only serve to slow down your retail marketing strategy. CDPs solve this pain point by ensuring that data collection and storage occur in a single platform.
Customer data is stored from pre-purchase (ads, promotions), purchase (point of sale), and post-purchase (customer care). All information is stored and utilized for in-depth analysis while still maintaining control over each touchpoint.
Data Unification
Online and offline customer data across channels need to be unified to derive maximum value for your retail business. Since there is a plethora of online sales channels, customers take longer to make a purchasing decision owing to the time spent exploring their options. Retailers need to build comprehensive customer profiles using all available information from touchpoints. These profiles need to also be added to in real-time with event data. 
Data management can be tackled effectively only if retailers update their technical infrastructure periodically. In corporate environments, data silos exacerbate the situation by separating customer databases, thereby fragmenting the data, and ultimately hindering a retailer's ability to map customers' journeys accurately.
Retailers can mitigate the chaos of unorganized data with the help of a CDP. CDPs contribute knowledge and insights to fill in the information gaps of retail while enriching customer understanding. Retailers can then proceed to personalize their marketing strategies towards highly specific target audiences. 
Customer Engagement Strategies
CDPs enable retailers to:
Use targeted communication to orchestrate customer journeys
Understand customer preferences to predict their behavior
Forecast demand and market conditions to make informed business decisions and strategies.
Failing to map the complete customer journey can lead to the wrong conclusions. Understanding how relevant and actionable your marketing data is essential to having realistic expectations of your retail performance. Marketing budgets and efforts can be misdirected to the wrong channels in case your data creates misleading results.
CDPs eliminate these threats by positively identifying and dissecting a customer's path to purchase. Before shoppers make a purchasing decision, they document the channels and the types of content shoppers consume prior to the time of buying. A CDP can highlight the pain points and strengths of channels that actually funnel clients towards conversion. 
Over and above all these benefits, an effective CDP delivers quality insights that are useful in predicting market trends accurately. Analyzing relevant data in depth, such as POS trends and sales performance, enables retailers to forecast product demand and adjust pricing strategies accordingly. Retailers can fine-tune their marketing efforts to target particular groups for better engagement and responses.
Ginesys has been helping retailers across India since 2006 to improve their profitability and efficiency by coming up with innovative, state-of-the-art retail tools that aid them with their processes. Whether selling online or offline, Ginesys One is a complete suite for all retail tech requirements with CDP, OMS, ERP and more. Get in touch with us and cover the entire value chain, from manufacturing and distribution to retail.