Indian vs Global ERPs for Indian Companies
Indian vs Global ERPs for Indian Companies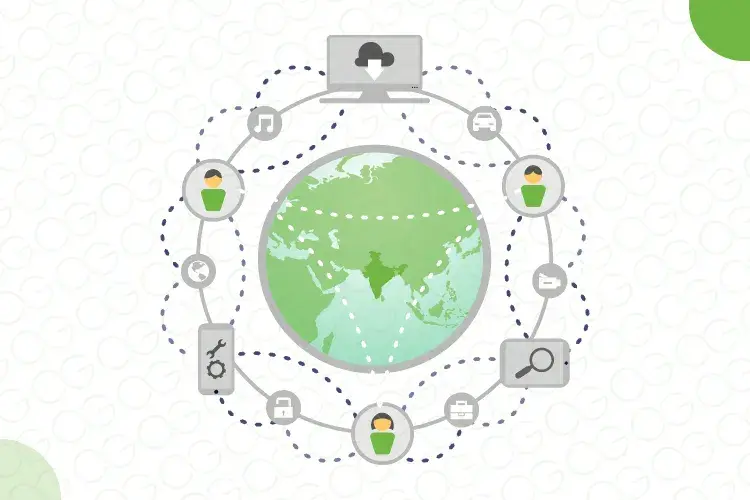 According to a report by the India Brand Equity Foundation, India's gross domestic product (GDP) is expected to reach $5 trillion by 2025. India continues to grow and evolve and so does its businesses. Many are turning to enterprise resource planning (ERP) systems to help manage their retail operations more efficiently. 
The demand for Enterprise Resource Planning in India is increasing swiftly, driven by the need for businesses to remain competitive in a rapidly evolving market. This is especially true in the hyper-competitive and extremely dynamic retail industry. As a result, both Indian and global ERP solution vendors are competing to meet this demand by offering retail ERP solutions tailored to the needs of the retail industry.  
Global Retail ERPs have been in the market for a long time, but they come with a certain set of limitations.  
Why Global Retail ERPs Might Not be a Better Fit 
According to a report by Gartner, more than 60% of multinational companies that implemented a global ERP system experienced major problems within the first two years. One of the main challenges for multinational companies has been in finding an ERP system that can effectively manage their operations in different countries, each with their own unique laws, regulations and business practices. This is especially true for companies operating in India, where local laws and regulations can be complex and difficult to navigate. Here are some of the common drawbacks of global ERPs for Indian companies: 
Limited support team for local languages:
Global ERPs are often designed for English-speaking users, which can create significant challenges for Indian companies. While English is widely spoken in India, it is not the only language used in business. Hence Indian retail companies typically require support in their local language be it Hindi, Tamil or some other and this is difficult to do for these product companies as they are only focused on their product. 
Lack of compliance with Indian laws and regulations:
Indian businesses are subjected to a complex web of laws and regulations, including tax laws, retail laws among others. Global ERPs may find it challenging to comply with these laws in a timely manner as it usually up to the customizations done by a partner to meet these requirements. Specifically, global ERPs may not offer finance features specific to the Indian market. This includes features such as GST compliance, e-way bill generation and TDS compliance. This can cause challenges for Indian companies when it comes to complying with local accounting practices and managing their operations efficiently. 
Limited integration with local payment gateways and Indian banks:
Indian businesses rely on local payment gateways such as Paytm, PhonePe and Google Pay. These bank gateways and payment gateways are not always supported by global ERPs and can create challenges for Indian companies when it comes to managing payments and reconciling accounts. 
Cost and customization challenges:
Global ERPs can be expensive to purchase and implement and may require substantial customization to meet the unique needs of Indian companies. This can make it difficult for them to compete with local rivals who are using more tailored ERP solutions. 
These restrictions can make it hard for Indian firms to efficiently run their operations using international ERP systems. Many have started turning to local ERP providers to provide solutions catered to the specific requirements of Indian enterprises. 
Why Indian ERPs are the Preferred Choice 
Here are some reasons why Indian ERPs are a compelling choice for businesses operating in India: 
Better support:
Indian ERPs are developed by local vendors who understand the unique needs and challenges of Indian businesses. They provide better localized support, including language-specific support and dedicated customer service.  
More responsive to Indian laws and tax regimes:
Indian ERPs are developed keeping the Indian tax regime in mind. They have in-built features that help businesses comply with the latest tax regulations, including GST (Goods and Services Tax). These features enable businesses to generate invoices, file GST returns, and manage their tax liabilities easily. Compliance with Indian laws is crucial for businesses operating in India, and Indian ERPs make it easier to ensure complete compliance. 
More relevant features for Indian retail:
ERPs in India are specifically designed to meet the unique needs of Indian retail businesses. They have in-built features to manage inventory, handle promotions and discounts, and manage customer data. Indian ERPs also have features that help retailers manage their supply chain, from managing vendors to tracking deliveries. 
Integration with Indian eCommerce websites:
Indian ERPs are designed to integrate with popular Indian eCommerce websites such as Flipkart, Amazon India and Snapdeal. These integrations enable businesses to automate their online sales process, including inventory management, order fulfilment and payment processing. 
Payment gateway integrations: Indian ERPs come pre-integrated with popular Indian payment gateways such as Paytm, Razorpay and Instamojo. This means that businesses can easily accept payments online and offline, reducing the time and effort required to manage payments. 
Choose Ginesys Retail ERP to Meet Your Unique Needs 
If you're an Indian company looking for a retail ERP solution, it's important that you choose one that is tailored to the unique needs of the Indian retail market. This is where Ginesys stands out from its competitors.  
Ginesys' strong focus on Indian retail helps it integrate seamlessly with local ecommerce websites and payment gateways, providing a streamlined, centralized platform for managing both online and offline retail operations.  
Ginesys' compliance with Indian laws and tax regimes ensures that your business can operate smoothly without worrying about legal and regulatory hurdles. Ginesys has customized features for Indian retail. This includes inventory management, POS solutions and CRM tools which will enable businesses to manage their operations more efficiently and effectively, leading to enhanced growth and profitability.  
Choose Ginesys Retail ERP to level up your company's growth and optimise your operations. 
Ask for a Demo today.