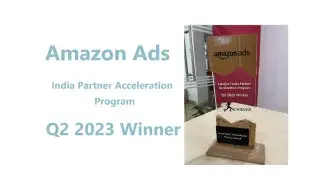 Browntape, a Ginesys One product, has achieved a remarkable feat by securing the prestigious "Achiever" category in Amazon's India Partner Acceleration Program for the second quarter of 2023. This recognition highlights Browntape's outstanding performance and results, reaffirming its status as a leading player in the digital realm.
As an accredited partner of Amazon, Browntape boasts extensive expertise in the nuances of these platforms. This enables them to craft and execute finely tailored, high-impact managed service strategies. Their seasoned team employs a data-centric approach, leveraging advanced analytics to fine-tune campaigns and deliver meaningful outcomes.
"At Ginesys One, we are looking to streamline all online and offline operations for a retailer. In this endeavour, we had launched the managed services division of Browntape that helps clients with their e-commerce store development and also helps promote and manage the brand on marketplaces. As position or rank and organic and inorganic performance is critical to success on the marketplace we have put sizeable efforts on this area. As a result, many of our portfolio customers are enjoying healthy topline growth and good ROAS on Amazon. This award is a testimony to that. We thank Amazon India for the award." - Piyush Goel, Head, Browntape (A Ginesys One product).
Recognition as an "Achiever" in Amazon's program is not just a milestone; it's a testament to our ability to adapt, innovate, and deliver excellence consistently. As the digital landscape continues to transform, Browntape remains at the forefront, helping businesses navigate the ever-changing currents with confidence and success.