How a Supermarket POS Software can Benefit a Grocery Stores and Supermarkets?
How a Supermarket POS Software can Benefit a Grocery Stores and Supermarkets?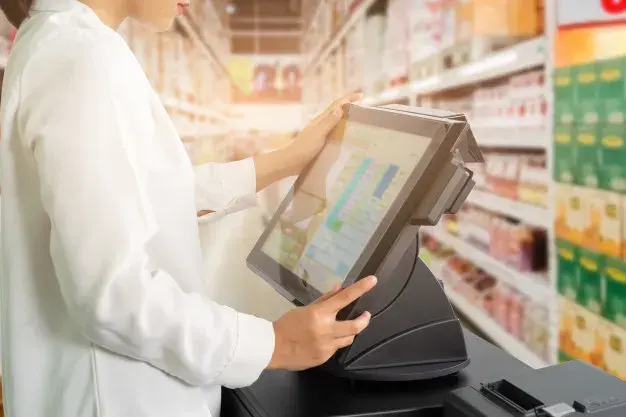 Evaluating POS Software for Your Grocery Store or Supermarket Chain? Here are 5 Capabilities you should Look Out for
For a supermarket which deals with an array of products, it is of utmost importance to have flawless billing software for better operations and customer satisfaction. There is always a need for a streamlined grocery POS software to advocate the versatility of the regular proceedings in a grocery store. 
Apart from accounting for a free flow customer experience, a supermarket ERP software is packed with a plethora of actionable insights which takes store management to the next level. 
So, if your business is using ECR and card terminals then it is high time to upgrade. From managing inventories to dealing with non-moving products, a specialized supermarket inventory management software will introduce better control, efficiency, and profitability in every sphere of your grocery business. 
It is high time to bid adios to that cash register and embrace cutting-edge grocery point of sale software for delivering an excellent retail experience. 
Benefits of Grocery POS System which You should Leverage 
There is a myriad of grocery store software in the market. Each advocating for unending benefits. A grocery store POS system often acts as a one-stop solution.
Let's discuss the different benefits of adopting a well-integrated supermarket POS. 
Top-notch Accuracy 
Efficiency is one of the biggest USPs of a supermarket accounting software. There have been many instances of billing errors in a supermarket billing system. Let's face it, human errors are something which can never be permanently eradicated. What if you had an automated solution? This is where a grocery store POS comes into the picture. A comprehensive billing software solution integrates all complex calculations and pricing data for a frictionless billing process. 
Furthermore, it is very simple to operate. Backed by state-of-the-art features and simple functionality, navigation will be a cakewalk even for people with minimal technical expertise. 
Inventory Management
This is another major advantage of a supermarket point of sale software. Dealing with an inventory is a challenging task. Added to that, a supermarket has to deal with a plethora of different products so inventory management is a monumental task. Furthermore, it is very essential for employees to keep track of perishable products. A comprehensive supermarket inventory management software makes life easier. It provides valuable and real-time information about the status of all the stock. It also plays a big part in tracking orders and scheduling new products. 
Not just supermarket owners, even small-scale grocery shop owners can benefit in terms of inventory management by adopting a POS system for retail grocery store. 
Real-time Insights 
A supermarket point of sale software provides real-time insights which accelerate business growth. The software is always in sync with the supermarket sale system. As a result, a supermarket POS system automatically updates the inventory with real-time data, every time a product is scanned by barcode. The billing system is constantly updated and there are absolutely no chances of errors and omissions. 
If you opt for a supermarket software demo, you will discover that there is a dashboard packed with live analytics that helps in product distribution and management. 
For instance, the dashboard gives you an update about a popular product on supermarket location A, whereas the same product has limited demand in supermarket location B. It will help you to transfer the same product to Location A. This is a small example of how this supermarket point of sale software helps in enhancing profitability by making the more of insights. Grocery store point of sale systems also helps you to understand buyer personas and discover more about the performance of your stores. 
Ensuring Customer Satisfaction
Customer experience is something which every store owner takes seriously. The good news is that a grocery POS also helps in better customer retention by enriching customer experience. The automation helps in making the billing system prompt and quick. This allows for faster sales and reduced queues.
Supermarket POS records customers buying history. This helps the management to have a better idea about a customer's buying preferences. All these help to serve the customers better. 
 
Simplified Accounting 
Accounting is the heartbeat of any store management process. Supermarket ERP software plays a big role in streamlining the entire accounting process and achieving maximum efficiency. 
With a smart accounting solution, you can record and import data devoid of any hassles and with greater efficiency. When recording becomes automated, it eliminates the chances of human errors. 
Winding Up 
We live in an era of technological brilliance, businesses all around the world are reaping benefits of technological advancement. The supermarket sector is certainly not an exception. The emergence of POS software for supermarkets has been a big game-changer. 
The simple transformation to technology helps you to enhance the audience experience, save time, bring down management expenditure, streamline the accounting process, and achieve profitability. 
Before you research supermarket billing system price, it is important for you to understand the essence of it.