CMAI National Garment Fair ends on a Positive Note
CMAI National Garment Fair ends on a Positive Note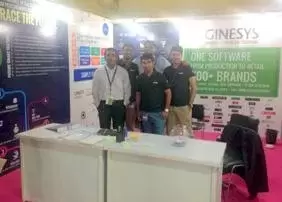 The 59th National Garment Fair organized by the Clothing Manufacturers Association of India (CMAI) from June 23 to 25, 2014 at the Bombay Exhibition Centre in Mumbai wrapped up with a definite sense of optimism among exhibitors and buyers.
The three-day B2B event was spread over about 4.50 lakh square feet, covering all the halls of the Bombay Exhibition Centre. There were 697 stalls displaying over 737 brands. This was the India's largest ever garment fair held on such gigantic scale for the first time.
Ginesys was proud to be associated with CMAI and stood grounded with difference displaying the GINESYS software and e com services. With sufficient branding and attending visitors GINESYS drew many curious faces to the stall, thereby increasing the number of footfalls.
Ginesys has a complete suite of services under our solution. It includes: ERP, Planning, Procurement, Production, Sales, Distribution, Retail, Point of Sale, Data Analytics, SMS/Email Notification, Finance and Accounts, Inventory, Webworks and Ecommerce.