How to Choose the Right Seller App for Your Ecommerce Marketplace Business
How to Choose the Right Seller App for Your Ecommerce Marketplace Business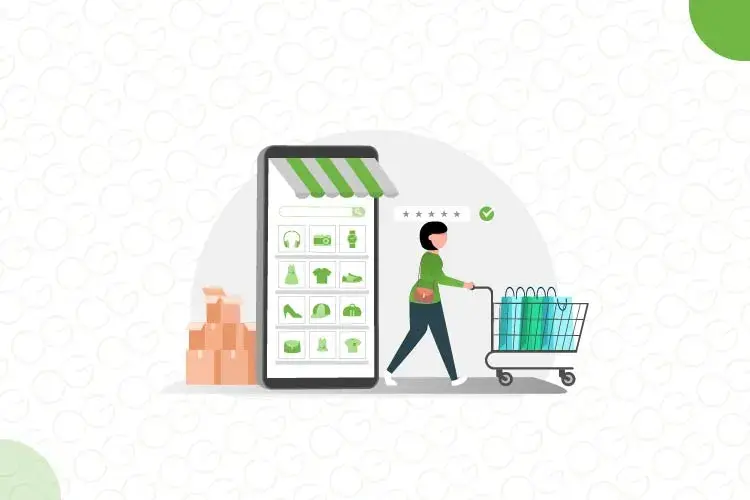 Mastering the art of selling your products online is essential for a business owner. You need to familiarize yourself with the preferred haunts of your target customers and devise a strategy to connect effectively with them. This objective can often be accomplished by comprehending various kinds of ecommerce marketplaces. Each ecommerce marketplace operates based on a distinct business model, which serves as a blueprint explaining the purpose behind its existence and the means through which it achieves its objectives.
With the growth of the digital space, online ecommerce marketplaces have gained immense popularity and exponential growth. As per Forbes Report, India's Online marketplaces currently generate a little over $100 billions of sales. With more than 15 million enterprises expected to sell their products online, online marketplaces could be making sales worth as much as $350 billion a year by 2027. They provide a powerful avenue for businesses of all sizes to reach a global customer base, increase sales, and foster sustainable growth. This is why entrepreneurs and business owners need to understand the benefits that online or ecommerce marketplaces have to offer and how they can leverage these benefits to their advantage.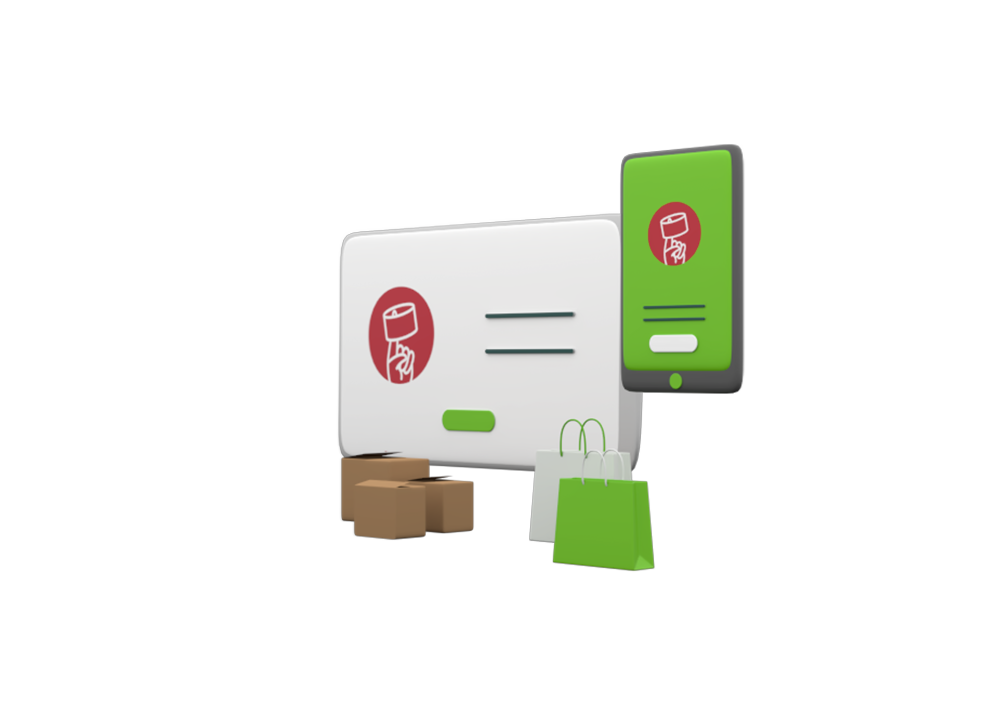 Start your ecommerce journey by choosing Ginesys One's Browntape OMS as your trusted seller app.
However, creating an ecommerce marketplace might still be a challenge for many. One of the biggest challenges they face is choosing the right seller app for the ecommerce marketplace. There are many different seller apps (otherwise known as an Ecommerce Order Management System or OMS) available, each with their own strengths and weaknesses.
This blog will delve into the benefits of utilizing ecommerce marketplace apps, explore different types of online marketplaces and tell you more about selecting the right seller app for your ecommerce marketplace.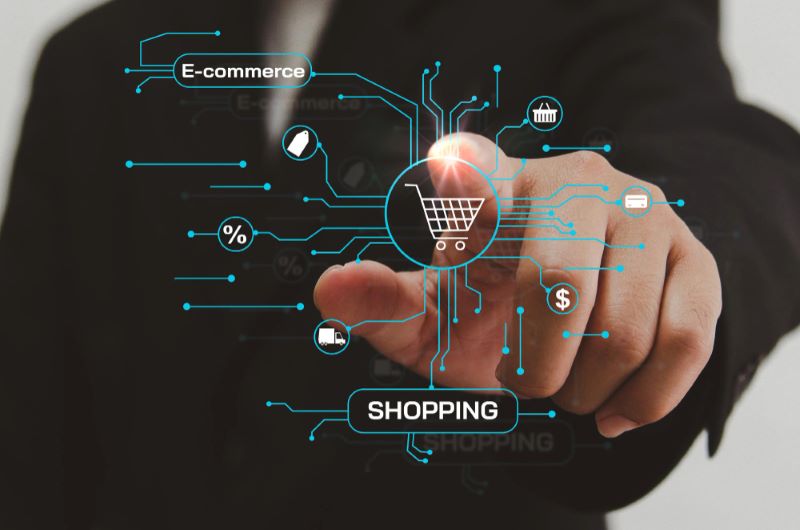 Types of ecommerce Marketplaces
There are various types of ecommerce marketplace available, each catering to different industries and target audiences. When classified based on their intended users, marketplaces can be divided into three primary types: business-to-business (B2B), business-to-customer (B2C), and peer-to-peer (P2P), also known as customer-to-customer (C2C).
B2B (Business-to-Business) Marketplace Apps:
The B2B marketplace app caters to business buyers seeking purchases from fellow businesses. It features wholesale suppliers and vendors offering services or products to business owners, entrepreneurs, and resellers. It offers:
Enhanced business security through contracts
Bulk purchasing options
Secure payment methods
An option to include tax prices
Notable examples of prominent B2B marketplaces include Alibaba, Graybar, and Udaan.
B2C (Business-to-Consumer) Marketplace Apps
B2C marketplace apps enable businesses to directly sell their products and services to individual customers. They often serve as comprehensive platforms where customers can conveniently purchase a wide range of goods online. There are several advantages:
They are cost-efficient for the seller
They have a significant market reach
They don't involve third parties
Less staffing is needed
B2C marketplace apps are immensely popular worldwide due to their vast range of product offerings for customers. Among these marketplaces, Amazon stands out as the largest, hosting millions of products from diverse businesses. According to the latest predictions, Amazon's sales are expected to generate $491 billion from 2023 to 2027.
It's important to note that B2C marketplaces extend beyond ecommerce platforms, encompassing various other models as well. For instance, Booking.com is an online travel marketplace that connects travelers with hoteliers and offers an extensive selection of properties.
P2P or C2C Marketplace Apps
A peer-to-peer (P2P) or customer-to-customer (C2C) marketplace app facilitates connections between individuals with similar needs, preferences, and financial capacities to exchange their products and services. The fundamental idea behind this kind of marketplace app is allowing individuals to offer their products or services to others in exchange for monetary compensation or other goods and services. This model is great because:
Sellers can earn huge amounts of money
They can find rare items
It becomes easier for both buyer and seller to communicate with each other
The most notable aspect of this marketplace model is that an individual can easily transition from a consumer to a service provider.
Other Types Of Marketplace Apps
Vertical Marketplace: Vertical marketplaces buy and sell a specific product. Also known as Niche marketplaces, they are more evolved in terms of users. These marketplaces offer specialized goods or services only in a specific segment or industry. Nykaa, 1MG are a few examples.
Horizontal Marketplace: Horizontal marketplaces focus on many product categories. A general or horizontal marketplace app provides a variety of products and services from different categories, creating an online shopping destination where you can find various items all in one place. Examples of horizontal marketplace apps include Flipkart and eBay. These platforms cater to customers with diverse needs.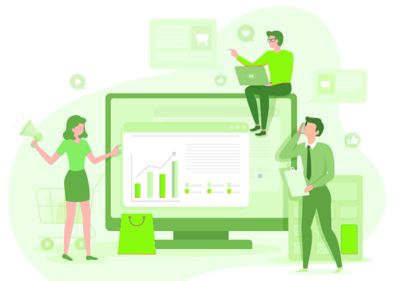 Transform your ecommerce operations from the ground up with Ginesys
Benefits of Selling on an ecommerce Marketplaces:
Increased Reach and Exposure:
By joining an ecommerce marketplace, businesses gain access to an existing customer base, eliminating the need to build a brand from scratch. These platforms attract millions of users, providing them with an unparalleled opportunity to showcase products or services to a vast audience. Leveraging an existing customer base saves time and resources that would otherwise be spent on marketing and customer acquisition.
Enhanced Credibility and Trust:
Ecommerce marketplaces often have established reputations, and consumers trust them to provide reliable products and services. By listing products on reputable marketplaces, businesses automatically gain credibility in the eyes of potential customers. This trust factor can significantly impact sales, as buyers are more likely to make purchases from familiar and trustworthy platforms.
Seamless User Experience:
eCommerce Marketplace apps are designed keeping the user's convenience in mind, offering intuitive interfaces, efficient search functionalities, and secure payment systems. These features simplify the buying process for customers, enhancing their overall experience. By leveraging the user-friendly infrastructure of ecommerce marketplaces, businesses can provide a smooth and hassle-free shopping experience, leading to customer satisfaction and loyalty.
Cost-Effectiveness:
Launching and maintaining an independent online store can be expensive. However, ecommerce marketplaces often provide cost-effective solutions by offering shared infrastructure and resources. They handle crucial aspects such as website hosting, security, and payment gateways, reducing the financial burden on businesses. Additionally, the marketplace's existing customer base eliminates the need for extensive marketing campaigns, saving both time and money.
Streamlined Operations:
Ecommerce marketplace apps often provide a range of tools and features that streamline various aspects of running an online business. These include inventory management, order fulfillment, payment processing, and customer support systems. By utilizing these built-in functionalities, businesses can focus more on their core operations and leverage the marketplace's infrastructure for efficient and seamless transactions.
Factors to Consider Before Choosing the Best Ecommerce Seller App
With the advent of online marketplaces, ecommerce businesses have been provided with a tremendous opportunity to reach a global customer base. However, managing multiple marketplaces simultaneously can be a daunting task. That's where a reliable ecommerce seller app comes into play. It acts as a centralized hub that helps businesses effectively manage their operations across various marketplaces. To ensure a successful online marketplace presence, it is important to consider essential features that best suit your business needs.
But before you choose the best ecommerce seller app for your business, there are several crucial factors you should consider. Let's delve into these factors to ensure you make an informed decision.
Speed and Efficiency:
One of the primary advantages of using an ecommerce seller app is its ability to streamline your operations. Look for an app that offers a fast and efficient order management system (OMS). This is defined by how fast the orders from various marketplaces are synced into the app or OMS. This feature ensures that you can process and fulfill orders quickly, minimizing any delays and improving customer satisfaction.
Charges and Fees Reconciliation:
Selling on multiple marketplaces often involves various charges and fees from the marketplace itself, shipping providers, and other service providers. Look for an ecommerce seller app that helps you reconcile these charges efficiently. Features like automated fee calculation, billing management, etc. will simplify the process and provide you with a clear overview of your financials.
Easy Order Fulfillment:
Managing orders across multiple marketplaces can be complex, but a robust ecommerce seller app simplifies the process. Choose a seller app that provides easy-to-use tools for order fulfillment. Look for features like bulk order processing, automated shipping label generation, and seamless integration with popular shipping carriers (logistics providers). These capabilities will significantly enhance your order management workflow.
Data Sync Between Marketplaces:
It is crucial to maintain accurate and up-to-date information across all your variety of marketplaces. A reliable ecommerce seller app should offer seamless data synchronization between multiple marketplaces. This ensures that product details, inventory levels, pricing, and other essential information remain consistent across all marketplaces, to prevent any potential discrepancy.
Inventory Management:
Efficient inventory management is vital for any business. An ecommerce seller app should offer inventory management features that enable you to track stock levels, set low stock alerts, manage product variations, and handle inventory across multiple warehouses. This functionality will help you avoid stockouts, maintain optimal stock levels, and improve overall inventory control.
Backorder Management for Products Not in Inventory:
For cases when you receive orders for products that are temporarily out of stock, an efficient ecommerce seller app with features like backorder management or the ability to create placeholders for out-of-stock items, will ensure a seamless customer experience even when inventory is unavailable.
Label Printing:
A convenient feature to consider in an ecommerce seller app is the ability to print shipping labels directly from the platform. This saves time and eliminates the need for manual creation, ensuring accurate labels for your shipments.
Barcode Changes:
The ability to change barcodes is a valuable feature for any ecommerce seller app. If you need to update barcodes for your products, it's essential to choose an ecommerce seller app that supports barcode mapping. This feature allows you to map a new barcode to an existing product in the marketplace. Additionally, ensures that the app maintains the SEO value of the old product listing, preventing any negative impact on the existing listing & its rankings on the marketplace.
Choosing the right ecommerce seller app is a crucial step in streamlining your operations and expanding your online presence. By considering these essential factors, you can make an informed decision and select the best app that aligns with your business requirements.
Enhance your Marketplace Store with Ginesys Ecommerce Performance Marketing
After setting up your online store on the marketplace, it is important to promote and manage it effectively. With potentially thousands of regular visitors and sessions, reliable infrastructure management and regular updates are crucial.
Ginesys' team of performance marketing experts help with optimizing your ad and search strategy on the marketplaces. This is extremely important as a seller, as it helps your products obtain better ranks in their categories and thus lead to higher sales from the ecommerce channels.
The Best App for Selling on Ecommerce Marketplaces and Webstores  – Browntape OMS
Ginesys One's seller App- Browntape OMS ensures seamless synchronization between your ERP, POS, and preferred shopping cart, as well as various marketplaces. It facilitates integration with all marketplaces like Ajio, Tata Cliq, Pharmeasy, 1 MG, Amazon, Flipkart, Myntra and more. Ginesys OMS is a powerful tool that allows you to manage all your ecommerce channels from a single dashboard and enables you to efficiently manage inventory and orders from a centralized platform.
Choosing the right seller app for your ecommerce marketplace business is essential for success, and Ginesys has you covered! Book a demo with us to know more!