How OMS and WMS Deep Integration Helps with Multichannel Retail?
How OMS and WMS Deep Integration Helps with Multichannel Retail?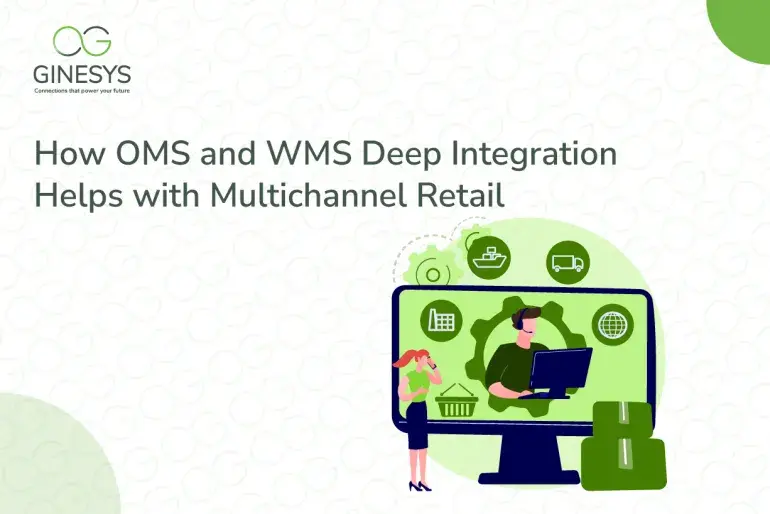 As a multichannel retail business expands, it needs two indispensable systems – an order management system (OMS) to manage order processing, and a warehouse management system (WMS) to manage back-end order fulfillment processes. The business world today hinges on one essential resource – data. Deep integration between OMS & WMS is necessary to effectively run your business.
What is an OMS?
An Order Management System is a tool or solution that enables sellers to keep a close eye on sales transactions, manage orders, handle inventory, and streamline fulfillment with the objective of making sure products end up in the hands of the customers for their benefit and satisfaction. It ensures that deliveries are carried out as planned, with total transparency, secure shipping, and punctual delivery.
While order management on its own hasn't undergone many changes throughout the years, the revolution in buyer demands and expectations has put the onus on retailers to rise to the occasion and meet consumer needs. Customers today are already so used to having a hassle-free and efficient ordering experience that sellers need to adapt or struggle to survive and maintain longevity. 
What is a WMS?
A Warehouse Management System is a type of software solution popularly used in retail and manufacturing to track goods and materials entering, exiting, and moving around the warehouse. A WMS helps businesses optimize all their warehouse processes. Not only can these solutions track products and resources, but they can also design systems to streamline order picking and picking to aid factory workers and bring down manual processes.  
WMS possesses all the information on hand pertaining to an order. In the event that a customer places an order, the system can immediately browse to see whether the product is available. Employees no longer need to manually cross-reference orders against the stock to verify availability. Instead, a WMS will do all the cross-checking on its own and mark an order as ready for packing if it's available. The amount of time, money, and effort that WMS saves for enterprises means that these systems end up covering their own costs when implemented properly.
Distinguishing Between an OMS & a WMS
An OMS is multi-faceted. It is capable of managing and tracking orders across numerous offline & online marketplaces, facilitating returns, tracking inventory, and ensuring order fulfillment, and also handling all billing-related activities.
On the other hand, a WMS is designed to manage the day-to-day activities in a warehouse. A WMS is not an OMS and vice versa. The two are not interchangeable. Typically, when an order is made, the OMS processes are carried out before the WMS operations take over until the point of order fulfillment. An order should be good to go once it has made its way to the OMS.
Integrating OMS & WMS for Multichannel Retail
OMS & WMS systems can be integrated so that information can be exchanged between the two via API feeds to facilitate the exchange of information. Here are the advantages of combining OMS & WMS in retail, specifically to meet omnichannel demands:
Flexibility of Operations
Each retail channel has some complexity of shipping, e.g., booking shipping slots, printing package labels, selecting mode of shipment. Bringing all this complexity into the warehouse would be crippling and would slow down warehouse operations. Keeping all these logic and steps inside OMS makes sense. In this way, WMS can focus on warehouse operations of stock inwarding and outwarding.
Allowing information to flow between OMS and WMS is essential to create a seamless experience for the customer, and they must be capable enough to address any hindrances that may arise during order fulfillment.  
Product returns and recycling are common enough occurrences, but the reverse logistics can be tricky and cumbersome. Errors during order picking and packaging result in lower customer satisfaction, increased shipping and handling expenses, and other contingency expenses for maintaining brand value in the eyes of the customer.
Boost in Warehouse Productivity and Process Optimization
Deep integration of WMS & OMS reduces picking costs in the warehouse and also improves slotting optimization. Combining the two systems allows businesses to improve their process and operational efficiency by understanding how to make sense of their data via analytics. An integrated WMS & OMS system allows retailers to conduct powerful analytics to predict customer trends and behavior during ordering, and duly adjusts slotting configuration to promote faster lead times.
Warehouse managers can effectively plan staff schedules and accommodate demand shifts readily, as the connected systems connection automatically shares data. This improves the overall scalability of an enterprise, improves order accuracy during peak demand phase, thus allowing retailers to enhance the shopping experience for customers.
Enhanced Customer Service via Omnichannel
Integrated WMS & OMS allows greater visibility into order fulfillment and enables retailers to offer a seamless omnichannel experience to their customer base. Combining WMS & OMS is crucial when it comes to creating a transparent order process in an omnichannel retail environment. Omnichannel retail differs from the traditional, multichannel sales strategy in some key respects.
Omnichannel commerce relies on continuous collaboration and partnership between the various sales channels to offer a seamless shopping experience to customers. The only way this is possible is if all channel partners have visibility and information across channels to respond to customer demands and expectations. In short, data from both these systems need to flow into each other to drive better visibility into the process of order fulfillment.
OMS & WMS Integration – The Inevitable Future of Retail
With rising customer expectations and no shortage of options for them to explore, creating a cohesive shopping experience for customers is key for business longevity, especially in the retail sector. Going forward, enterprises will need to combine both OMS & WMS systems to offer a seamless and much sought-after omnichannel sales experience. Retailers that fail to offer this will need to suffer exorbitant overhead costs and struggle to meet the expectations of their customer base.
Ginesys has been devising innovative solutions to answer the challenges of retailers across India since 2006. Our host of tools and solutions are aimed at enabling retailers to derive maximum efficiency from their process, and maximum profits from their operations. We've recently rolled out the Ginesys One suite – the answer to all things retail. Ginesys One is a multi-functional, integrated retail suite that's designed to address any and all challenges that arise in the world of retail. Experience the benefits of having your OMS, WMS, ERP, BI & more, all accessible through a single, unified hub. Contact us to find out more.