How to Serve Online and Offline Customers from the Same Inventory Pool
How to Serve Online and Offline Customers from the Same Inventory Pool
Inventory management is worth its weight in gold when it comes to retail success. 
When you manage your inventory smartly, other areas of your business will be able to reap its benefits. A successful inventory strategy can enhance warehouse management, logistics, order management and the overall operational efficiency. Your inventory is one of your most valuable assets from a financial standpoint. However, if not handled properly, the consequences can be pretty devastating. 
Some of the major challenges your retail business faces include out-of-stock situations, inventory shortages, overstocking, and a lack of inventory tracking.  
According to research by IBM, 56% of retail business leaders reported that their inventory information was not accurate. Errors in inventory record keeping have become a major cause of concern for retailers, making inventory visibility a pipe dream. An additional challenge is having your inventory stored in multiple warehouses and being unable to adequately track and manage them. 
Having a centralized inventory management can be the solution for these challenges. This blog walks you through the concept of a centralized inventory management in detail, its benefits for your company and the various ways you can centralize your inventory.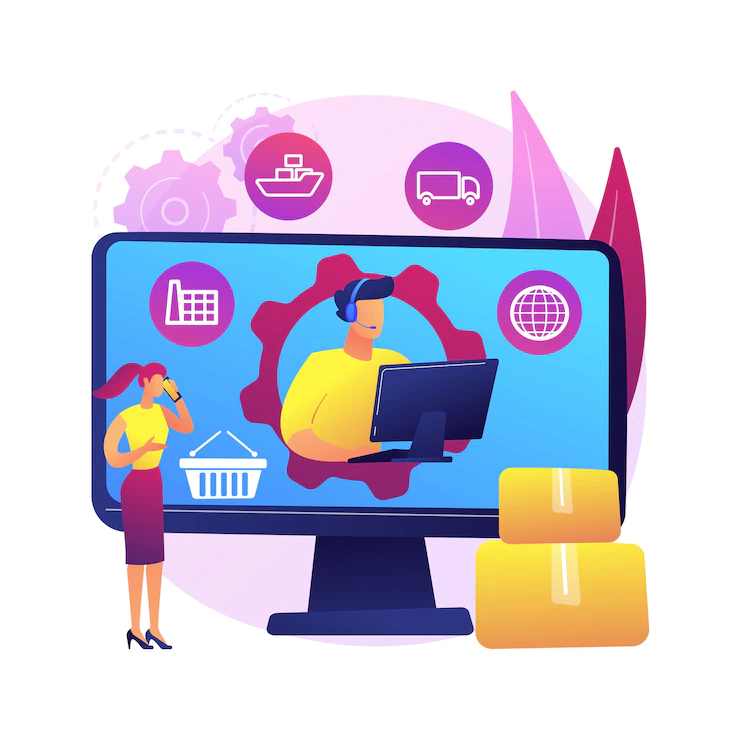 Centralized Inventory Management and Multichannel retail 
A centralized inventory management system allows companies to store all their inventory in one system and manage it from that software. This kind of system (usually an ERP) helps businesses with large amounts of inventory make better use of the space they have and cut down on costs.  
Ecommerce companies and large manufacturers initially benefited from keeping all inventory in a handful of large warehouses. But as operations grew into multichannel operations mixing wholesales, distribution, D2C ecommerce and D2C retail, this was not feasible. It required stock at various parts of the operations to be segregated. Although it was an accurate method of tracking inventory for the business, it was also costly as the holding cost of inventory went up due to the pile up of inventory at various points and in different channels. It was difficult to respond to sudden changes in demand and supply with this model. 
How to Centralize Inventory for Omnichannel Retail 
Omnichannel retail is the new buzzword in retail and it results in a seamless experience for the customer. All of this is achieved by centralizing the inventory management system into one view of inventory, even though disparate systems like POS, ERP and ecommerce order management systems might be used.  
This is possible through the use of API-based deep and real-time integration between the ERP (being used for warehousing, wholesales, distribution), POS (being used for retail sales) and OMS (being used for marketplaces and webstores). 
APIs are function calls between two different software that treat the applications as if it were part of the same code. 
Once you shift to a centralized inventory system for inventory for all the channels, it becomes easy to serve both online orders (from ecommerce marketplaces and webstores) and offline orders (from wholesales, retail and distribution channels) from the same pool of inventory. 
Benefits of Centralized Inventory Management  
When your inventory management is centralized, you no longer have to worry about out-of-stock items at each store. You no longer have to wait for suppliers to deliver in-demand items before opening your store in the morning. This unified system brings plenty of benefits to the table. 
The prime advantage of having a centralized inventory management is that it eliminates the need to have significant stock of inventory across the channels . This significantly reduces your storage costs and cost of goods. 
If all the products are stored in one place, tracking the movement of goods across your network becomes effortless and uncomplicated. You also get a clear picture of inventory visibility, allowing you to make better business decisions. 
Centralizing inventory management provides you with an accurate report on the items that are selling well and highlights the ones that are not. This allows you to replenish your stocks and get rid of certain items if they are no longer profitable. 
Accurate data and greater visibility lead to less waste of resources and the time spent on repetitive and mundane tasks. All your operations run efficiently, making your inventory movement a well-oiled machine. This results in greater agility, leading to a surge in demand.  
Centralized inventory management gives you the information you need at your fingertips, giving you faster access to accurate information when you need it the most. 
Centralize your Inventory with Ginesys  
Ginesys' OMS and WMS a part of the retail ERP can help you centralize your inventory from a central location, regardless of the size of your operations. With live API-based integrations, Ginesys will give you greater insights into your business, including information on which products sell better in different months and areas of your store. 
The Ginesys One ecosystem includes an Order and Inventory Management System (OMS), that integrates with all marketplaces and webstores. Get eCommerce management, Point of Sale (POS) systems, warehouse management, shipping management and accounting- all at your fingertips. 
Take inventory management to the next level with Ginesys. Get in touch with us to know how.