Fast growing Designer Wear Brands need agile software
Fast growing Designer Wear Brands need agile software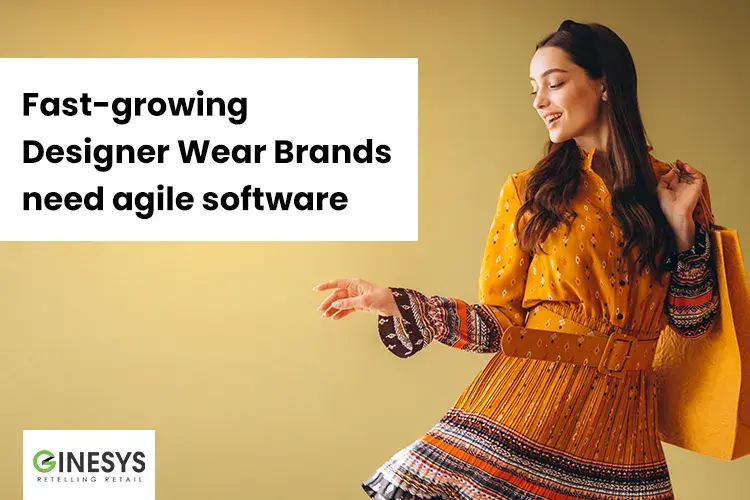 When we started working closely with leading fashion brands in the Indian market, we noticed that all these brands faced certain common challenges in running their business. Their main struggle lay in building and implementing a robust and micro-level production tracking mechanism and an efficient sales mechanism. 
Struggling with ever-changing Production Processes ?
Designer garments typically have many parts, components and raw materials and go through unique processes for every SKU. Hence creating a BOM and tracking the work-in-progress through Excel or basic inventory software becomes difficult. You need a strong production software like Ginesys that can track these transactions every time for each and every SKU.
All production is outsourced to karigars and job workers. Hence, Ginesys also supports the payments to be made and material to be received from these job workers. 
How to integrate Warehouse, POS and Ecommerce into a single solution?
A single concept of inventory availability across warehouse and physical stores is a challenge with independently used software. With Ginesys you can have higher fill rates for online orders from Ecommerce with omnichannel and warehouse integration. You can drive B2B sales to multi-brand outlets. 
Ecommerce orders to be fulfilled from anywhere 
Ginesys One has integrated Browntape and other OMS platforms to provide a single fulfilment window across Ecommerce and marketplaces. This gives the store and warehouse persons a much shorter learning curve and faster fill times. Order accuracy is also very high as all data is live in real-time.
Waste not, want not
You can even analyze and purchase the right raw materials by having an accurate picture of your warehouse and in-process production. 
Customizations need not be headaches
Some designers manufacture certain outfits exclusively for a select few customers. Having a provision to track the production of customized items becomes an absolute necessity. In such a situation Ginesys can create unique SKUs to let you track the production of these items.
Handy POS for Event sales
Many small pop-up and exhibition events are held throughout the year. It may not be feasible to take a computer or laptop along for each of these events. Billing live on the mobile POS will come in very handy. Ginesys One provides an integrated mobile POS solution, Zwing, that is very good for designer wear shops, kiosks and shop-in-shops. 
Boost Investor Confidence with Reporting and Accounts
Ginesys also has a comprehensive reporting feature and accounting module that has helped various designers bring in external investors. Investors are happy that the accounting systems have the right controls to manage their business.This feature lets business owners present the growth of their business, their sales trends and profits earned, to investors.

All these points prove that Ginesys One truly brings a powerful growth engine for designer wear brands. Learn more about it here by getting in touch with us.