Multi-channel retailing: Manage stock and sales for non-Ginesys locations
Multi-channel retailing: Manage stock and sales for non-Ginesys locations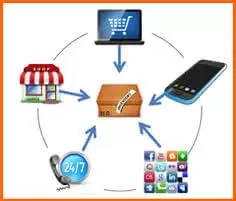 Ginesys POS was a good solution for company-owned or franchisee owned shops indicated above. Yet there are many situations where it is not possible to install a point of sale software even though it is your own stock. For example in a shop-in-shop inside a store being run by a different retailer. Additionaly for online sales also new business models developed like having your own e-commerce website or selling through online marketplaces like Amazon, Flipkart, ShopClues. We are now providing solutions for these situations as well:
1. Unmanaged Owned (COCO) store: Such companies have a great deal of problem in managing different outlets of different brands as each brand outlet is using different ERP software. Now with this feature, you can create a new Organization Site or that store which will help you keep the track of your stock and sales. Sales can be uploaded in Excel.
2. Marketplace (fulfilled by marketplace): In such e-sales channel, the marketplace handles the order and dispatch of your product. Here, you can create an unmanaged customer site to handle such outlets from where you can import all the sales and stock information required.
3. Marketplace (fulfilled by seller): In this, you handle the order and dispatch of your product like it is done in your own e-commerce site. Order processing to dispatch/invoicing needs to be done in E-commerce Aggregator's website. So the excel sheet created by it can be imported by Ginesys to help you retrieve the information.
That is not all! We have added new sales & distribution reports and fine-tuned existing reports to check out information from the above sales channel. This will help in a big way to enablement of multi-channel or omni-channel retailing.