What are the Challenges in Implementing Retail Management Software?
What are the Challenges in Implementing Retail Management Software?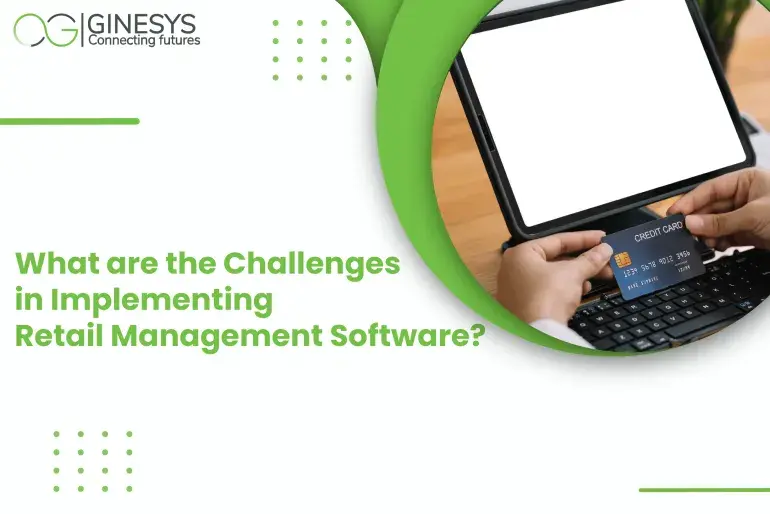 What is a Retail Management Software?
Retail Management Software has become an essential component of the retail industry. It is primarily a cloud-based software solution that provides access to all the information needed to manage your retail store business. A Retail Management Software enhances the retail stores' business by streamlining disparate retail processes.
Most Retail Management Systems function similarly to a Point of Sale (POS) system, but the newly introduced feature of Retail Enterprise Resource Planning (ERP) gives it an advantage over typical POS Systems when it comes to asset inventory details, accounts backups, sales reports, and more. 
The following features can be beneficial in a Retail POS System. You have to decide what is best for your company. 
If you're using it to run a brick-and-mortar store, the best possible choice will be Retail POS integrated software that can provide you with all possible features that help you optimize your store business. However, if you want billing software for retail shops that span multiple locations, you should go with Retail Management Software. It will provide you with comprehensive information about your stock levels, logistics, accounting and help in the overall management of your business making Inventory Management Software unnecessary. Lastly, it enhances the final customer experience.
Roadblocks in Adopting Retail Management Software
Migrating to a New Retail Management Software
If you don't do it correctly, migrating customer and inventory data might be a hassle. You'll need to think about how you'll transmit data from one system to the next. Are you going to manually enter the data or will you import it in bulk? What is the import and export process for the two systems, by the way?
Also, keep in mind that your new system may include data fields that are different from your previous one. Some solutions, for example, contain a field named "Barcode number," whereas others have a field called "SKU #." Before importing data or files onto your new system, be sure they are properly formatted. Test the data migration procedure for a few goods to be secure. So, in the beginning, find out the data you need to transfer, the best method to do it and the time period required. This can make the process a whole lot easier. 
Changing the WorkFlow and Process
When you migrate to a new retail management system, be prepared to cope with changes in processes. You may need to adjust how you process orders or how you deal with suppliers. Make sure you and your team are informed of these changes as soon as possible.
Examine and describe how your current workflows will alter as a result of the transfer. Will you have to devise workarounds? Is it possible that you'll need to purchase more hardware? What actions or procedures should you change specifically? Is it an omnichannel strategy that serves the customer demand? These are just a few of the questions you and your team should be prepared to address. If you work for a large company or have a lot of processes, you might want to employ a process analyst to look over your workflows.
Merge With Existing Retail Solutions If Possible 
Check to verify whether your new system can interface with any other software you're using. Make a note of any current software or integrations and see whether they'll operate with your new retail management system. How simple would it be to connect the solutions? If they can't be combined, you'll have to think of another way to proceed. 
Is there anything on your new system that can replace your present software? If you're going to a retail management system with a built-in loyalty programme, for example, you probably won't need a third-party loyalty solution. Will you have to build a workaround if your new system can't replace an integration? Is it time to look for a new integration? Figure out the answers to these questions well before choosing to replace your old retail management software.
Inform Your Employees About the Change
It takes a lot of effort to switch to a new retail solution. Your whole team should be informed of your plans, and each person should understand how the change will affect them. Create a communications strategy for your company. Determine when and how you'll inform your employees about your intentions, as well as how you'll teach them.
Here's a hint: you don't have to inform everyone at the same time. While a few employees should be informed of the change right away, you should wait until certain elements are confirmed before informing the rest of the organisation. For example, first, inform the mid-level managers in your organization and then the important stakeholders on the ground level about the change. 
Implement the New System in Phases
You won't be able to just "switch on" your new machine and start using it. Before going live, there are a few things to do. The first step is to figure out how you're going to do it. Will you go live with all of your stores at once or one at a time if you have a lot of them? Will you be running several systems at the same time? When are you going to turn off your old solution? These are only a few points to consider. Hardware and connection are other important considerations. Months or weeks before going live, set up your equipment and in-store WiFi. This will allow you to test the system and identify any flaws.
Most significantly, you must consider data migration. While certain data can be transferred early in the process, other data must be maintained up to date. This implies you'll have to move the data the night before you go live. These decisions should be made well in advance of your go-live date. The last thing you want to deal with when you first switch on your new machine is technical troubles.
Follow the Best Practices While Switching Your Retail Management Software
When it comes to switching to a new retail system, the cliche "knowledge is power" holds true. Simply being aware of possible issues puts you ahead of the thousands of firms who rush into new technology. You now know what it takes to change a system for a retail business. Ensure to follow these steps so that you can bypass the common challenges with ease.
Grow Your Business with the Best Retail Management Software
Whether it is to manage multiple stores or a single store, choosing the right inventory management system is crucial for having a smooth process and increasing productivity. At Ginesys, we specialize in providing software that pushes your business towards profitability and helps in accounting. We are known to provide the best retail management software in India. Feel free to contact us and get more ideas. Figure out the answers to these questions well.