Ginesys Featured in Silicon India Magazine as The Top POS Solution Provider
Ginesys Featured in Silicon India Magazine as The Top POS Solution Provider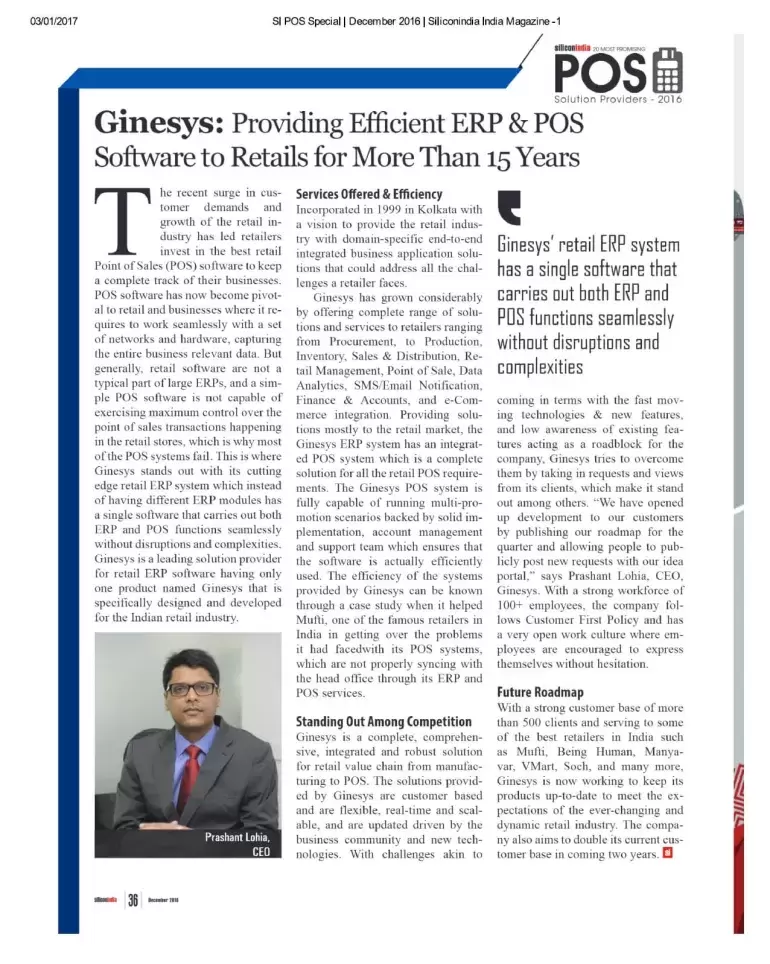 Ginesys got featured in Silicon India Magazine as the Top POS Solution Provider. The article highlighted on the need to invest in the best retail Point of Sales (POS) software by retailers to keep complete track of their business with the increasing growth of the retail and it emphasized on how Ginesys, providing efficient ERP and POS software to retails for than 15 years, stands out with its cutting edge retail ERP system which instead of having different ERP modules has a single software that carries out both ERP and POS functions seamlessly.
The article also outlined the features of Ginesys as a complete, comprehensive, integrated, robust and scalable and update-driven solution for retail value chain offering a complete range of services ranging from procurement, to production, Inventory, sales & distribution, Retail Management, Point of Sales, Data Analytics, Automated notification, Finance and Accounts and e-commerce integration.
With a strong customer base of more than 500 brands such as Mufti, Manyavar, Being Human, VMart, Soch and many more, Ginesys is now working to keep its products up-to-date to meet the expectations of the ever-changing and dynamic retail industry.