How Can You Drive Better Vendor Performance with an ERP and WMS?
How Can You Drive Better Vendor Performance with an ERP and WMS?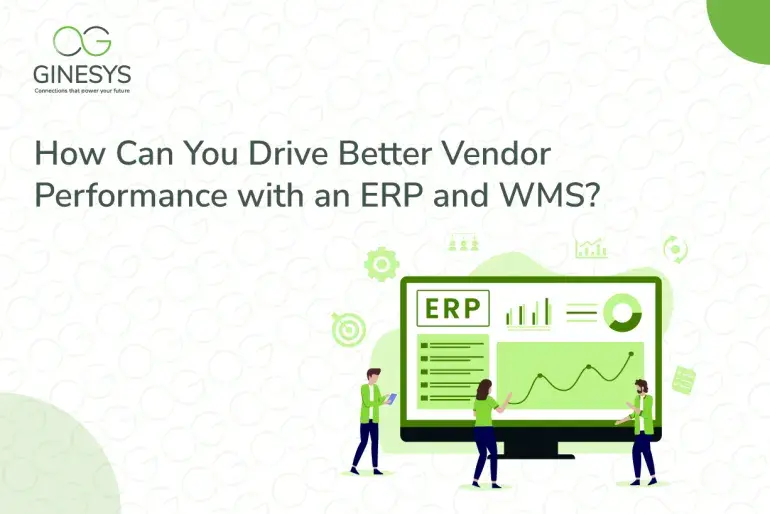 Bringing Together ERP & WMS
Over and above scalability, integration helps you prevent expensive data errors and silos that waste the time and resources of your operations. Allowing your resource planning tool to interact with your supply chain solution enables your retail business to adapt to shifts in the market with agility.
According to Oracle, 49% of companies that utilize tools like an ERP enjoy increased productivity, and 95% saw a tangible improvement to their full range of business processes.
Basics of WMS
Looking into the benefits a warehouse management software is essential for growing sales. Expanding retailers that need to grow their inventory stand to gain from using an effective warehouse management system (WMS). Monitoring work at multiple levels allows companies to increase productivity, optimize asset and resource usage, and a whole lot more. WMS improves process efficiency for labor as well as the floor space. It also improves transparency by providing visibility into a retailer's stock at any time and place, whether in a facility or in transit.
Benefits of WMS
WMS are critical in ensuring that storage processes work smoothly by tracking inventory and making sure that goods are stored and sorted properly, as well as shipped and tracked accurately.
Here are a few reasons why WMS has become indispensable in inventory management:
Accurate Binning
With pre-assigned bins dedicated to SKUs or assortments / categories it becomes faster and easier to bin the stock.
Faster Order fulfilment
Needless to say, large retailers receive orders from multiple channels and most of them require moving around the warehouse. A WMS provides a pick-up sequence and allows picking of multiple orders from bin A, bin B and so on rather than having to fulfil orders sequentially. Such a process is called a batching process and is quite efficient at filling a large number of orders fast.
Easy bin audit
Warehouse systems also support cycle count/ bin audits to ensure that the physical and actual bin stock is matching.
Easy operations using handheld barcode scanners
Staff don't need to do all operations on a desktop, usually a WMS comes with apps that work on handheld scanners making the processes work from anywhere in the warehouse. This is usually not the case with an ERP.
Accurate Inventory Reporting
All the above benefits lead to more accuracy in inventory at the warehouse. This enables retailers to provide vendors with more accurate and timely purchase orders and also give them a delivery slot once they integrate with the WMS's advanced shipment notification systems.
Improved Employee Productivity
A full-fledged WMS can automate all your warehouse processes, enabling managers and associates to work fast even when the volume of work increases at a rapid pace.
Vendor Compliance Automation
Retail distribution can enable businesses to grow rapidly if they comply with complicated vendor guidelines. Top-tier WMS products will include standard vendor compliance modules that automate the generation of labels, packing lists, and shipping documents, which will accelerate vendor certification processes and minimize chargeback losses.
ERP – A Closer Look
Enterprise Resource Planning (ERP) systems are used by enterprises to manage their business functions within a centralized, integrated hub that offers multiple levels of functionality. They broadly cover the functionality of a WMS but with some added features and benefits by enabling information to flow across all areas of the business. ERP aids companies within the supply chain to monitor and exercise control over the several moving parts of manufacturing and distribution.
Having all your business data in a single database allows all departments to collaborate and access the same information. This data can further be organized and analyzed to create reports and facilitate actionable insights. ERP software and tools are used to manage a vast range of business functions but differentiating it from other solutions is the challenge. Though ERP may have similar goals and uses as other solutions, its unique set of features and capabilities make it distinct in the software market. Here are some benefits of using ERP solutions in your business. 
Benefits of integration of WMS and ERP
Easy processes in warehouse boosting productivity
A warehouse system or WMS brings in efficient processes in the warehouse that an ERP cannot provide, but the ERP needs the accuracy given by a WMS. Hence the 2 systems benefit from each other.
Vendors receive advanced orders
An ERP with WMS helps you give vendors advanced notifications and helps them plan their shipments for your retail warehouse
Financial systems remain accurate even with high stock movement
One key benefit of integration is that your financial system that is part of the ERP, remains accurate as it does not have to rely on Excel upload from WMS or other systems. All inventory processes incoming and outgoing will automatically update the ERP. This makes your accounting accurate.

Retail ERP & WMS – The Ginesys Way
While ERP has a range of uses across industries, Ginesys has tailor-made WMS & ERP solutions to fit the needs of retail. Here are some of the features of our unique software:
Aids procurement by creating transparency through digital purchase records – Ensure timely delivery of goods and services by segregating ad-hocs and purchase orders.
Enables insights into inventory – Ginesys has an extremely flexible item master with various options and functions to handle your inventory requirements.
Boost sales and distribution – Vastly improve B2B sales and distribution across your entire retail network.
Automate warehouse processes – Keep up with rapidly moving goods and reserve inventory against orders.
Adopt a secure financial system - Create checks and balances on purchases and sales with the financial system as part of the Ginesys Retail ERP.
Ginesys' state-of-the-art retail solution is designed to help retail businesses of all sizes to elevate their process efficiency to the next level. Our solution is ready-to-use with minimal customization and requires zero IT management. Experience the benefits of enhanced security, business intelligence, order management, productivity, and GST integration options. The future of business is cloud, and the Ginesys Cloud Retail ERP & WMS are designed to move you to the top.