Mistakes you should avoid when choosing a POS system
Mistakes you should avoid when choosing a POS system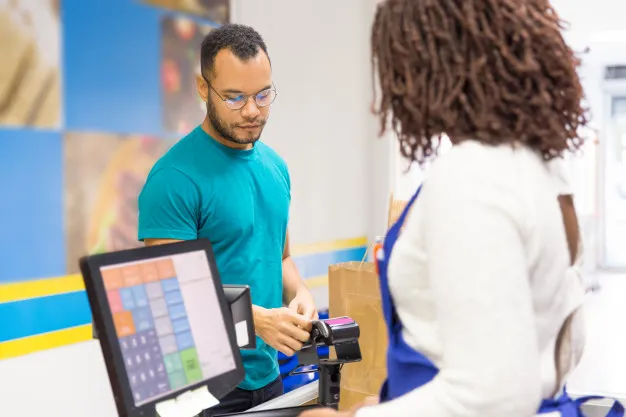 Buying a POS system should be a well thought-out process and requires a lot of careful deliberation. 
When you're looking to buy a POS system, there are some common mistakes you should avoid, at all costs. Let us list out five of them here.
Buying hardware before software
Many retailers make the mistake of buying the POS system hardware first, even before knowing if the software will be compatible with the hardware or not. This can create problems in the setting up or working of the retail POS system later. To make your system error-free, you must always check for hardware and software compatibility, before you install it.
Opting for Cheaper Products without checking their Features
A business owner will naturally first think of the cost of the POS system he/she is buying. Why opt for a costlier product when he/she can buy it at a lower price? But price should definitely not be the only factor when it comes to a POS system. You must, no doubt consider factors such as durability, price, ease of use and access to start off with. But another very important point you have to consider is the product's features. If your billing POS software doesn't have the features your business needs, then there is no point in it being cost-friendly. 
Not evaluating the hardware vendor
Retailers often purchase hardware on the internet without having the slightest idea as to which company's products they are buying. This can prove to be a costly mistake. It is essential to research and know crucial details, like if the hardware providers have had any prior retail experience, what their warranty offer is and how efficient their after-sales service is. You will also need to know how well they handle repairs and replacements. For online vendors, you must know where their physical retail outlet is. When it comes to support queries, how easy is it to access their support team after-hours and on weekends? You will need to talk to each vendor and learn about what support services they provide. You wouldn't hesitate to pay more for hardware when the support they provide is top-class. A knowledgeable and efficient vendor will even assist you in comparing different products and help you choose the best model compatible with your billing POS software model and business environment.
Not evaluating the software vendor
Choosing the right software vendor is equally important as choosing the right software. A lot of retailers buy their POS solutions based only on their features and price, without looking at who is selling the software. It is of paramount importance to know if your software vendor has had previous experience selling to retailers. 
An experienced vendor can teach you tips and tricks of the retail billing software you're using which will save you time and money. Many software vendors will also be well versed with their competitors' products and can list out key advantages of their POS software over others.
Additionally, you will also need to know if your vendors offer one-on-one training programs to learn the software or you have to learn completely through online training or manuals. A personal training session is generally more desirable. Like your hardware vendor, you will also need to know if your software vendors will provide customer support even after office hours. 
Not evaluating enough POS software programs
It doesn't make much sense to purchase the first billing POS software you evaluate, or the cheapest one. Many POS systems offer basic functions, and may even have hidden costs that you won't know about until it's time to pay for it. After evaluating a few POS systems, you can compare the features and costs of each and end up making a better, more informed decision. 
The Solution
Ginesys gives you a fast and secure retail POS software at your fingertips. The POS software for retail shops offered by Ginesys promises a quick and easy approach to billing with continuous data synchronization. Top retail companies vouch for its efficiency.
These are some of the features you get with Ginesys
A User-Friendly Billing POS Software Which Supports Fast Billing Features

Graphics And Text Mode Bill Printing 

A POS Solution That Does Not Slow Down During Data Synchronization

Automated Data Synchronization

Support For Authenticated Digital Wallet Transactions
You will get these and plenty more features with the best billing POS software for retail shops in India. 
Consult with us to know more about us.