Multichannel retail vs omnichannel retail
Multichannel retail vs omnichannel retail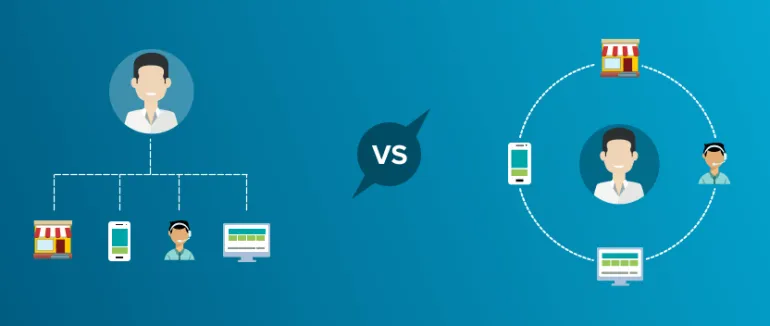 The retail industry has grown tremendously over the past few years. Along with this, the need for organizations to thrive has also increased. Setting up an omnichannel format in the organization is one of the best ways for retailers to grow their business. However, since both multichannel and omnichannel strategies are set by combining physical and online retail formats, many retailers still have a common misconception about the same. The primary difference in these formats is the quality of customer experience each delivers.
This article is an attempt at helping retailers understand the main difference between multichannel and omnichannel formats.
Multichannel retail format
Traditionally, a multichannel retail format includes both physical and online stores. However, the operations of these stores are discrete and involve minimal interaction with other's touchpoints.
This means that the brick-and-mortar stores would have a stock that is independent of the stock available for the online channels. Additionally, items viewed and purchased via online channels cannot be picked up from nearby physical outlets. Even the returns or exchanges can only be initiated via the channel it was purchased, vis-a-vis physical outlet, website, or mobile application. Customers need to have separate interactions with the online and offline channels.
Omnichannel retail format
Today's customers wish to have an easy, quick, and frictionless purchase journey while switching between platforms. An omnichannel format enables customers to have a smooth journey while making a purchase across all platforms - online and offline. All the touchpoints are interconnected in order to provide a consistent experience throughout the customer journey.
For instance, a customer comes across a product on a social media channel that he wishes to purchase. Upon clicking, he gets redirected to the mobile or web application, where he could complete the purchase. He opts to collect it from a nearby outlet of the brand. He is also allowed to return the same product in a brick-and-mortar store and accept the refunded amount in his mobile wallet. This is a true omnichannel format, wherein the customer has a unified journey with the brand through social media, mobile application, and in the store.
Ginesys, one of the leading retail management software partners for major retail brands all across India, has partnered with omnichannel enablers such as Unicommerce and Vinculum, in order to assist all organizations to adopt omnichannel retail formats and to scale up their business.